Blazers to release former No. 1 overall pick Greg Oden
The Portland Trail Blazers have released Greg Oden, the No. 1 overall pick in the 2007 NBA Draft, after numerous knee injuries.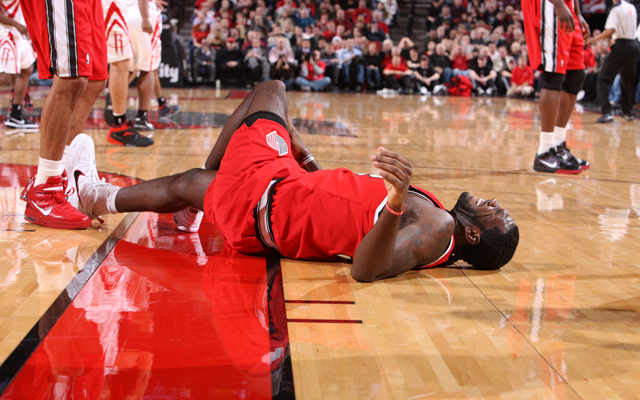 The Greg Oden Era in Portland is over.
(Getty Images)
After a seemingly endless series of knee surgeries and second chances, the Portland Trail Blazers will release center Greg Oden, the No. 1 overall pick in the 2007
NBA Draft
, on Thursday, according to Ken Berger of CBSSports.com.
The Oregonian first reported the decision
. 
Oden, 24, played in just 82 games with the Blazers over five years. He missed his entire rookie year due to a microfracture surgery on his right knee, he suffered a season-ending patella fracture in his left knee in Dec. 2009, a season-ending microfracture surgery on his left knee in Nov. 2010 and a season-ending microfracture surgery on his left knee in Feb. 2012. He also underwent an arthroscopic surgery on his right knee in Feb. 2012.
The No. 1 overall pick out of The Ohio State University, Oden was selected over Oklahoma City Thunder All-Star forward Kevin Durant. He was expected to team with All-Star guard Brandon Roy and All-Star forward LaMarcus Aldridge to form a "Big 3" for the Blazers.
It never materialized because of the injuries. Following Oden's most recent knee surgeries, Blazers Acting GM Chad Buchanan
expressed disappointment but no regrets
with the organization's decision to select Oden.
Oden leaves the Blazers with career averages of 9.4 points, 7.3 rebounds, 1.4 blocks in 22.1 minutes per game. Oden is being released 1,722 days after he was drafted. He appeared in just 1,816 minutes of regular season action for the Blazers.
The Blazers made two deadline trades on Thursday, acquiring four players and sending out just two. Those moves necessitated the release of two players so that Portland could get down to the roster maximum of 15 players.
Phil Jackson has made it clear he wants Anthony out of New York, but would prefer to trade...

Boston is working on adding serious star talent this summer

Light fixtures and outlet covers across the facility are covered in hidden notes
M.J. reminds Russ that even he won an MVP before winning an NBA title

Monk was the No. 11 overall pick in last Thursday's NBA Draft.

Can any of these theoretical superteams unite this summer and possibly challenge the Warri...