Bobcats F Tyrus Thomas out two months with calf injury
Tyrus Thomas will miss two months with a muscle tear near his calf.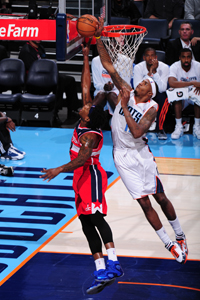 Thomas out 2 months.
(Getty Images)
The Charlotte Observer reports that Bobcats F Tyrus Thomas suffered a calf injury and will miss two months of action. The injury will not require surgery. From the Observer: 
Monday's MRI revealed the muscle tear near his calf. He also has a second-degree strain of the calf itself.

The injury does not require surgery, but has a relatively long recovery period.
(via Inside the NBA: Charlotte Bobcats forward Tyrus Thomas to miss two months with left leg injury)
The Bobcats traded for Hakim Warrick over the weekend, in what was considered a non-story, but now seems like a huge deal. Warrick is the best player suited to fill in minutes for Thomas, given how coach Mike Dunlap has pushed the team to play faster. Byron Mullens will likely get more time alongside Bismack Biyombo, but if the Cats go small, their only option might be Warrick. 
Thomas was averaging just seven points and three rebounds in 18 minutes of play per game. Thomas is owed $8 million for the season. 
Show Comments
Hide Comments
The commissioner's infamous veto of the Paul trade could have been different

Warriors are intent on keeping a mind like Jerry West around

LaVar has always been proud of his son, which Magic says isn't a problem as long as it doesn't...
Curry was cookin' on the pan and stole the show when she took over the mic

Shaq says LeBron isn't comparable to any one legend, rather a mixture of several greats

Kevin Love says the Cavaliers are on the same level as the Warriors: 'We match up well'