Bobcats' Michael Kidd-Gilchrist out 4-6 weeks with broken hand
Michael Kidd-Gilchrist is out the next 4-6 weeks with a broken bone in his left hand.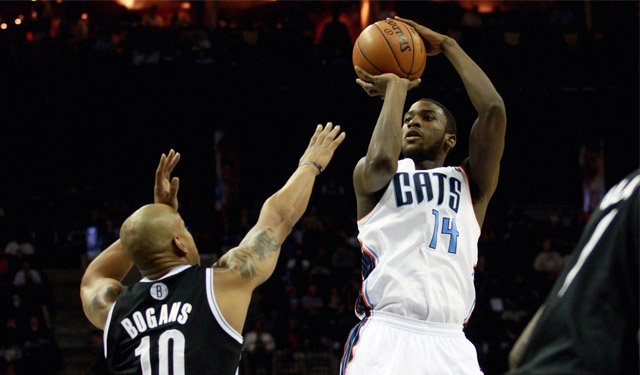 The hand injury Charlotte Bobcats wing Michael Kidd-Gilchrist suffered in Tuesday night's loss to the Dallas Mavericks has been diagnosed as a "non-displaced fracture of the fourth metacarpal in his left hand." The Bobcats announced on Wednesday that he will miss 4-6 weeks because of the injury.
Charlotte Bobcats forward Michael Kidd-Gilchrist is expected to be out 4-6 weeks after suffering a non-displaced fracture of the fourth metacarpal in his left hand during the third quarter of last night's game in Dallas. Kidd-Gilchrist, who was examined on-site last night, had additional x-rays taken this morning in Charlotte that confirmed the original diagnosis.
The Bobcats have been freakishly competitive throughout most of this 2013-14 season because of their ability to defend. While they have the second worst offense in the NBA ahead of the Milwaukee Bucks, they have the third best defense in the league. They surrender just 97.8 points per 100 possessions, behind the Indiana Pacers and the San Antonio Spurs. It's helped them claw their way to an 8-11 record to start the season.
That 8-11 record ties the 2009-10 Bobcats team for the best start in franchise history. They finished 44-38 that season in their lone playoff appearance. They are currently eighth in the Eastern Conference.
Show Comments
Hide Comments
Our Latest Stories
Big Papi was more than happy to help a fellow countryman on his big day

Rose is reportedly more concerned about his impending trial than he is letting on

Curry gave a glimpse at one of his new tricks at Warriors practice
A look at the past, present and future of three superstars who do not play for a superteam

The movie star imparted what a shark tale celebrity status can be for the young athletes

No big shock, the unanimous MVP plans to stay in the Bay.