Boston Celtics assign Rajon Rondo to D-League
As part of the final stages of rehab for his ACL tear last year, Rajon Rondo has been assigned to the D-League by the Boston Celtics.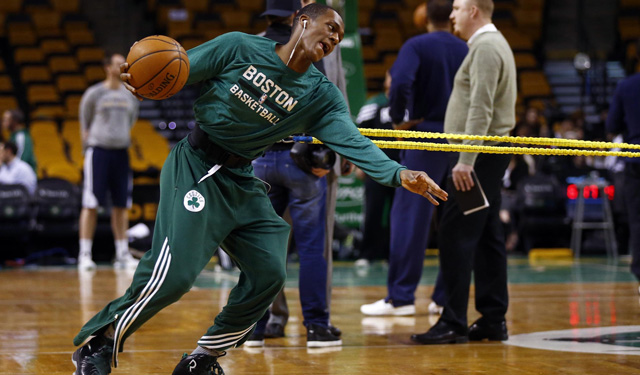 Much like a Major League Baseball player being sent down to the minors to rehab an injury, the Boston Celtics look to be using their D-League affiliate, the Maine Red Claws, in similar manner. The team announced Wednesday that they have assigned Rajon Rondo to the D-League as he finishes off the rehabilitation process for the ACL tear he suffered back in January of 2013.
The Boston Celtics announced today that they have assigned guard Rajon Rondo to the Maine Red Claws of the NBA Development League.

"Rajon is progressing terrifically in his rehab and this is the next step," said Danny Ainge, Celtics President of Basketball Operations. "This is a brief assignment so that Rajon can participate in a workout this afternoon with the Red Claws and he will be called back up to the Celtics upon the conclusion of the workout."
The Red Claws' next game is on Saturday when they face Ricky Davis and the Erie Bayhawks. They also have a game on Monday when they go to Canton to face the Charge. After those two possible games, it's hard to imagine the Celtics would have Rondo down in the D-League much more than that, if they even keep him down there until Monday's game.
Recently, Celtics' president of basketball operations Danny Ainge informed the media that a possible D-League assignment to get some real time on the court was Rondo's idea. It's the perfect way for him to get real game action without having to hope the Celtics have time to scrimmage on an off-day. This is likely how the league will be used in the future as expands to all 30 teams.
Show Comments
Hide Comments
The Bulls great doesn't think Jordan/LeBron comparisons are fair because their roles are so...

The lawsuit stems from McGee's time in Dallas

Hammond had served as Bucks GM since 2008
Brown has played crucial minutes for Boston guarding LeBron James in the Eastern Conference...

The Cavs have had a much tougher time in the two games the Celtics have been without Isaiah...

Jackson left Duke after one season and signed with an agent, forfeiting his option to return...