Bradley Beal will only work out for teams with Nos. 2-4 in draft
Bradley Beal will not work out for any team with a pick below No. 4 in the draft.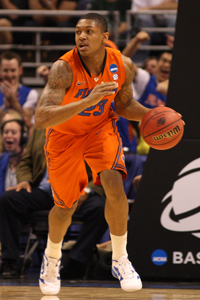 Bradley Beal is representing himself as a top-four pick.
(Getty Images)
Part of cementing yourself into a top pick position is acting like you're in a top pick position. The whole "talk the talk" or "fake it 'till you make it" thing. You have to engage the media and the teams as if you are definitely going in the top (whatever) and there's no doubt in your mind so if they want you, they had better take you. 
Teams won't really fall for this, but every little bit helps. Bradley Beal is helping himself. From
Sports Illustrated
:
Agent Mark Bartelstein told SI.com that he has no plans for Beal to conduct workouts with teams beyond the top four. Beal is tentatively scheduled to work out for Washington on Thursday, Cleveland on Saturday and Charlotte on June 18.
via Bradley Beal solidifying spot as top shooting guard in NBA draft - Sam Amick - SI.com.

Beal has skyrocketed up the board since February. The tournament put him on another level. The comparisons to Ray Allen are on point, when you factor in the consistency of his jumper. His measurement of 6-4 in shoes at the combine helps ease the concerns about his size. The Bobcats need a scorer at No. 2, the Wizards need a shooter at No. 3, and the Cavaliers need a backcourt running mate for Kyrie Irving at No. 4.

It's not just posturing by Beal. He's going top four.  

(HT: IAmAGM.com) 
Show Comments
Hide Comments
The two best point guards in the East go at it in a series sure to be filled with drama.

Breaking down key matchups as the second season reaches the conference semifinal series

The second round of the 2017 NBA Playoffs tips off Sunday at 1 p.m. ET, with Game 1 of Cel...
The Spurs have homecourt advantage, and will host Game 1 Monday night at 9:30 p.m. ET

All-Star guard flew to Washington after Game 6 vs. Bulls to attend his sister's funeral Sa...

Some love for the Rockets over the Spurs, and at least one expert says the Cavs are going...