Brandon Jennings says 'no way' he returns to Bucks as UFA
Jennings is willing to gamble with the money to get out of Milwaukee.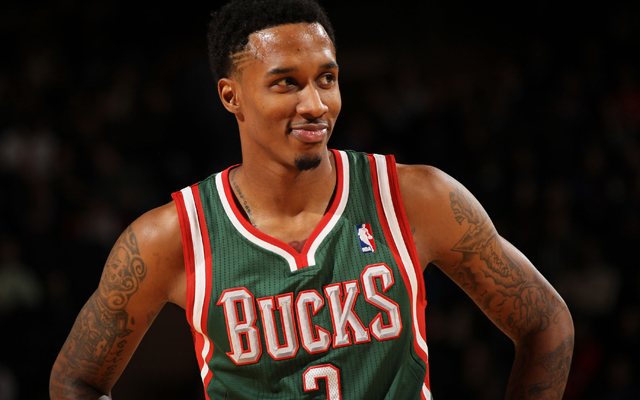 Yahoo Sports spoke to Brandon Jennings, and the Bucks point guard is considering signing his qualifying offer in restricted free agency this summer, making him unrestricted in 2014, and then leaving Milwaukee. We're not talking "he might leave Milwaukee," either. 
"If I take the qualifying offer and become an [unrestricted] free agent there is no way I am coming back," Jennings told Yahoo! Sports on Friday after practice. "There is no way."

Jennings considers Milwaukee a "great sports town" and has enjoyed his time there, but in order to keep him long term, Jennings said the Bucks' offer must be lucrative and there needs to be changes in the roster and the organization to make it championship caliber.

...

"I just want to win," Jennings said. "The way I am playing now, I just want to go to a winning team and play like that. I don't care about being a superstar or being the main guy. I did that [the] first four years. I just want to win and be somewhere where it's all about winning.

"I'm not saying the Bucks aren't about winning. But I think [a title caliber situation] will help me, motivate my game and then you have to perform."

...

"If you think about it I still do have power," Jennings said. "If anything is offered out there that doesn't mean I have to accept it, right? That means next season I will be playing and then I will become a free agent and can go anywhere I want to go.

"It doesn't mean if another team offers me something or the Bucks offer me something that I have to take it. I can still play it out. That's something I've been thinking about. Then I can really have the power to really make my own decision."
via Brandon Jennings plays negotiating hardball with Bucks, states what will be final straw in Milwaukee - Yahoo! Sports.
Couple things, here: 
I've floated this idea before. Jennings opted to play a year in Europe after encountering issues with his college eligbility. He was a trendsetter then, he'd be a trendsetter now. Players never opt for the qualifying offer as a rookie; it's their first big contract. Turning it down risks injury and then a major setback financially. But Jennings has bigger ideas for his career.
Jennings has wanted to play in a big market since before the draft. One problem with this plan is that none of the big markets are going to have any more money in 2014 than they have now. New York, Brooklyn, and both Los Angeles teams are full-up well past that point. The Mavericks in Dallas are unlikely to hold that kind of cap space two years in a row. Mark Cuban's patient, but he's not that patient. And I don't imagine Chicago will be clearing Derrick Rose out to make room for Jennings any time soon. 
So is this a negotiating ploy to try to force the Bucks' hand into a max contract, which he reportedly wants? The answer is both yes and no. Jennings clearly wants to play elsewhere, but he's open to getting the money. After all, the money doesn't prevent him from forcing his way out in a few years. That's the new superstar reality, and Jennings considers himself such a superstar.  
Some of Jennings' comments should upset Bucks fans. They're payig him, they gave him control of the team, they centered their franchise around him, and he says he needs to play on a championship team to "motivate his game"? Someone might want to educate him that raising his play by motivating himself is the best way to make the Bucks a title contender. Then again, if this is Jennings' attitude, do you really want him as your franchise star? 
Show Comments
Hide Comments
Parker was injured during Game 2 of the Spurs' series vs. the Rockets

'Road Trippin' with RJ and Channing' is the best podcast in basketball

James has said he doesn't feel he has anything left to prove
How they match up with what each team does well, and poorly, headed into the big battle for...

LaVar Ball will be happy with this futuristic mix of his son in Lakers gear

LeBron had some high praise for his coach