Breakdown: Why the Cavs would be wise to take Joel Embiid
A breakdown of why the Cleveland Cavaliers would be wise to take Joel Embiid with the top pick in the NBA Draft.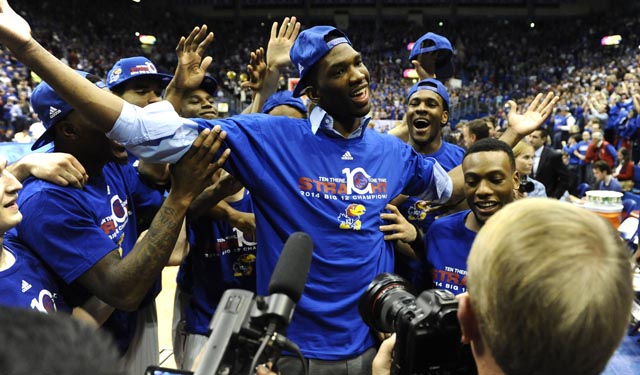 More postseason coverage: Playoff schedule, results | Latest news, notes
The Cleveland Cavaliers have lucked into the top pick in the NBA Draft for the third time in four years, and have the biggest decision of their history since deciding to go with the obvious choice of LeBron James back in 2003. The Cavs have been inching closer and closer to returning to the playoffs since James left in 2010, but still haven't been able to field a roster good enough to truly get close in the weak Eastern Conference. It's led to them wanting to accelerate the process in order to placate fans, young star Kyrie Irving and themselves.
They have plenty of options with what they can do with the top pick on June 26. But their best option would be trusting their medical staff and taking Joel Embiid out of Kansas with the top selection. The Jayhawks center has a potential red flag with his back injury, but everything he does on a basketball court makes him simply too intriguing to pass up.
The intrigue of Joel Embiid
We don't know that Embiid is destined to be the next great big man like we thought Greg Oden would be back in 2007. However, the skill set he showed us during his freshman year at Kansas when combined with his size and athleticism looks too good to be true or to pass up. Embiid is a legitimate 7-footer with good mass and a 7-5 wingspan. He can play in the post, in the pick-and-roll, and he can defend the basket.
The majority of his damage on the offensive end in his one college season was done in the post. According to Synergy Sports, 49.3 percent of his offensive possessions (ending in a field goal attempt, free throw attempt, or turnover) came on post-ups. He showed a balance in being able to post up on either block, finish with either hand, and did a great job of drawing fouls (he's a 68.5 percent free throw shooter).
When Embiid posted up on the left block this season, he was destructive. He scored an impressive 1.145 points per possession on the left block and made 63.2 percent of his attempts. The majority of those scores came from turning over his right shoulder toward the lane, where he could use his strength, quickness, and athleticism to get shots right at the basket. As a right-handed big man, it makes sense he'd be better turning over his left shoulder on the right block, which he was. Embiid needs some more comfort moving on the baseline and sinking that fadeaway shot, but that can all come in time for him.
As of right now, Embiid is someone can score on the low block and will likely be able to provide a solid scoring option right away in the NBA. Nobody is expecting him to be Hakeem Olajuwon right away, but he's not going to be some overmatched center who can't get post position or execute moves. The Cavs could use this, considering they were 22nd in scoring efficiency in the post this season. Only 6.8 percent of their offensive possessions (seventh most used play type on this team) came out of the post. Adding a legitimate scoring big man on the low block would help balance out an offensive attack that produced the 23rd best offense in the NBA.
The post isn't the only place Embiid can make a difference. He's an incredibly nimble athlete for his size who can sky high from the weak side for lobs, run the floor, and even step out to knock down a jumper. 
Embiid was one of the best in the country at scoring on cuts to the basket -- this includes a lot of lobs around the rim -- and he was one of the most efficient scorers off of offensive rebounds. He did a great job of making jumpers as well, but it was a very small sample size from his 28 games with the Jayhawks. But the thing to take away here from Embiid's highlights is he does find ways to impact the game on offense. 
Defensively, he'll probably make his biggest impact in the NBA. Embiid is very agile, which allows him to play great help defense in the lower part of the half court or even in the pick-and-roll. Most importantly, he's fantastic at protecting the rim in a way similar to Serge Ibaka (he's almost always two steps away from the rim).
The Cavs gave up the seventh highest opponents' field goal percentage in the restricted area this past season and were a middle-of-the-road defensive team overall. Embiid is solid defending the post, although he'll need to bulk up a bit, and he's great at helping out on shooters. Cleveland would have a legitimate rim protector if they grab Embiid with the top pick.
The concern of Joel Embiid
All of this sounds great about Embiid, right? How is this not a no-brainer to take him with the top pick and why would they ever consider someone else? He missed the NCAA tournament at Kansas due to a stress fracture in his back, that sent red flags up all over his draft stock. It doesn't mean he's damaged goods, but the fact that nobody seems to truly know just how bad his back could be is something that gives teams pause with this situation.
Embiid's camp trusts that his back is OK, and once we get some physicals that leak out from teams, we'll have a better idea of whether or not they're being completely upfront about the future health of the center. As of right now, we can only go off of what we truly know and what we see. Here's him at a draft workout recently:
He looks great, right? Doesn't look like the back injury is having any negative effect on how he moves or his explosiveness. But the key isn't how he looks now; it's how he may look after a season, three seasons, or eight seasons of NBA centers beating him up inside and the wear-and-tear his body and back can endure every night. That's where the questions come into play of whether or not he'll be able to give you full seasons year in and year out.
As for now, the Cavs should be willing to take the risk, assuming his back looks manageable from the physicals. They took a risk with Andrew Bynum and committed $12 million to him because they trusted their medical staff. It didn't work out for Bynum and the Cavs, but did that have more to do with Bynum or the medical staff? An educated guess would suggest their ability to get him back on the court was impressive but his inability to stay on the court or on the team was more due to him.
The Cavs should take Embiid because you don't get many chances like this at such a prospect. You know ... unless they win the lottery again next year.
Show Comments
Hide Comments
The two best point guards in the East go at it in a series sure to be filled with drama.

Breaking down key matchups as the second season reaches the conference semifinal series

The second round of the 2017 NBA Playoffs tips off Sunday at 1 p.m. ET, with Game 1 of Cel...
The Spurs have homecourt advantage, and will host Game 1 Monday night at 9:30 p.m. ET

All-Star guard flew to Washington after Game 6 vs. Bulls to attend his sister's funeral Sa...

Some love for the Rockets over the Spurs, and at least one expert says the Cavs are going...