Breakup talk unavoidable with Lakers in Houston to face Howard
The Lakers want to move on, and so does Dwight Howard. But in Houston to face Dwight's Rockets, it's inevitable that some Lakers can't but help but rehash last season's Dwightmare.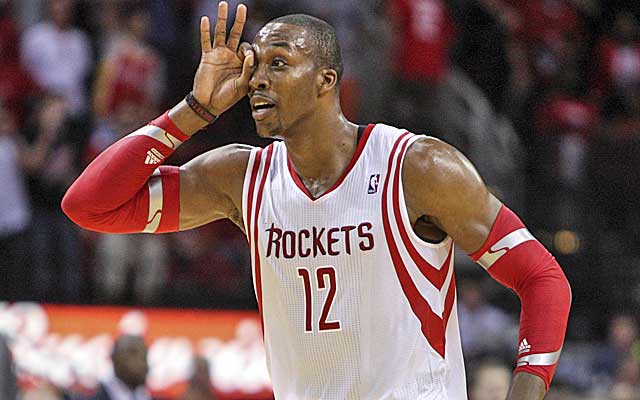 HOUSTON -- The way the Lakers are playing right now, the last thing they needed was a reminder of last season -- when things were even worse.
In many cases, worse than anyone knew.
Yet there they were Wednesday on the Toyota Center court, Dwight Howard's new home, trying to fix what ails them before a red-letter day on the NBA calendar. On Thursday night, Howard will face the Lakers for the first time since deciding to bolt LA for Houston as a free agent in July.
Stumbling into town on the heels of a mind-numbingly inept loss in Dallas on Tuesday night, the Lakers are beginning to resemble a team that Howard had every right to flee. The defense is non-existent without him, the 39-year-old point guard, Steve Nash, can barely move and Kobe Bryant still has yet to return from the ruptured Achilles' tendon he suffered in the waning days of Howard's one and only season in LA.
And when it comes to Bryant, anyway, it is clear that his presence on the Lakers was more of a deterrent to Howard than a magnet when the All-Star center was making his free-agent decision in July.
"There was definitely a lack of understanding and connection," Pau Gasol said of the toxic Bryant-Howard relationship. "I don't know how much tension there was, but there were days when it was fine and everybody was on the same page and then when things get a little rough, usually that's when the tensions come up. It was a rough year. A lot of things didn't go our way and that made it that much more difficult."
Bryant, who is pushing harder in his rehab as he tries to overcome one of the biggest obstacles he's ever faced, minced no words about his falling out with Howard in an NBA TV interview on Tuesday night.
"We have two different personalities," Bryant said. "There's a certain way that I believe you have to approach the game in order to win championships. And he had a different way that he felt like would work best, and because of that, it was tough to see eye-to-eye on a daily basis."
There isn't enough bandwidth on the Internet to list all that went wrong for the Lakers last season: Howard's back, Howard's shoulder, Gasol's foot, Bryant's Achilles, Nash's everything, an abrupt coaching change, Mike D'Antoni's scheme ... and on and on.
We can now add to that list "Howard's ego." Remember the story about how Howard was turned off by the pitch Bryant made to him in 2012 about coming to the Lakers to be the defensive presence and third offensive option? Bryant has denied it, but both Gasol and D'Antoni gave it new life on Wednesday.
"It's tough when you've got two Hall of Famers, three Hall of Famers, on the floor at the same time," D'Antoni said. "Too bad. You're not the No. 1 guy we go to."
Gasol, patiently fielding one Howard question after another while sweat dripped from his hair after practice, said Howard "held certain expectations and certain demands as far as the game that probably weren't fulfilled."
"We all had to adjust and sacrifice yourself for the betterment of the team," Gasol said. "How much are you willing to sacrifice for the betterment of the team and understand what it takes and what the team needs from you, specifically, and not what you would like to give? Those are some of the questions that individually we all should have asked ourselves and put in common work from there."
It was a cold indictment of Howard's vision of what his role on the Lakers should've been from Gasol, who also made a point of saying that Howard wasn't the only one battling injuries last season.
"We knew he wasn't 100 percent," Gasol said. "That's what he talked about; that's what he shared. And then he had the shoulder issue as well, but you know, we all had issues."
For Howard, this exercise in hype that comes with playing against your former team is becoming old news. After finally forcing his way out of Orlando, Howard was dominant in two games against the Magic last season -- averaging 30 points and 15.5 rebounds as the teams split. The Rockets didn't practice on Wednesday as they traveled home from Portland, but Howard's most recent comments demonstrated how little patience he has for any storyline having to do with the Lakers.
"I don't think there's a need for me to continue to talk about the Lakers and what happened," Howard said Thursday. "I've done enough talking about it. It's about Houston and what we're trying to accomplish. I don't think every discussion needs to be about the Lakers."
Howard also mentioned that he hasn't spoken with Bryant since he left the Lakers. He named three friends he's kept in touch with on the team since the decision -- Jordan Hill, Jodie Meeks and Robert Sacre.
"When he left LA, he felt it was the best decision for him and I respect him for that," Hill said. "I told him, 'Do what you've got to do. No love lost. Our friendship is still here.' I love the guy.
"Maybe the living arrangements in LA were not what he wanted," Hill said. "Maybe he wanted to go at a much slower pace. Nobody would know. He told me he just felt comfortable here and that's all he can say. That's all he said to me and that's all I asked him to say."
Even Nash, who never fully got to experience life as a pick-and-roll partner with Howard due to injuries that are still slowing him, doesn't blame Howard for leaving.
"I don't begrudge him for thinking that's a better situation," Nash said. "This team has, I think, just me under contract next year at 40 years old. He decided he wanted to go somewhere else -- a different scenario, more pieces, more certainty and comfort there. So I don't begrudge him making a decision to go somewhere else. I think it's also no secret that the Lakers are looking to next year to reload and rebuild."
Of all the factors, that might've been the one that scared Howard the most about the Lakers. What happens after this season? If Nash retired and the Lakers agreed to an extension with Bryant, Howard had trouble seeing how that picture would be prettier than the one the Rockets painted for him in Houston.
"It's a lot of question marks," Gasol said.
But as Gasol soon realized, he need not look to the future or the past for a window into the Lakers' woes. At one point, he cast his gaze toward the court where the team had just finished practicing and summed up the aftermath of Howard's departure about as well as anyone could have.
"It didn't work out," Gasol said. "And we're trying to work this out right here, which is enough of a challenge."
Indeed.
Show Comments
Hide Comments
The Clippers believe the Spurs are a real threat to go after Chris Paul

K.D. is tired of being blamed for other teams not keeping up with the Warriors

There are plenty of MVP candidates to go around in this talent-loaded series
Our experts make their picks for what could be another classic series

'I wear the number because of Mike'

Sam Mitchell could be on the Pelicans coaching staff next season