Browns WR Andrew Hawkins tweets LeBron-to-Cavs story from 2006
Andrew Hawkins got Cleveland's hopes up on Thursday when he tweeted a story about LeBron James signing with the Cavs. The only problem is that he linked to a story from 2006.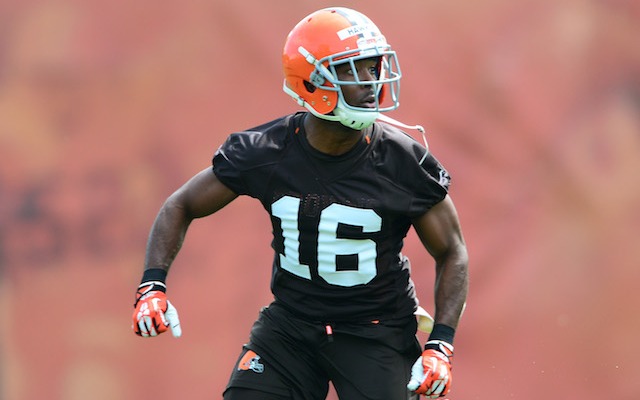 If you've been on the internet lately, you might have noticed that every other story is about where LeBron James might go in free agency. James stories have topped cat pictures as the No. 1 thing on the internet this month. 
James is likely going to end up in Cleveland or Miami, so Browns wide receiver Andrew Hawkins decided to toy with Northern Ohio's emotions on Thursday. 
It all started when there was a report that LeBron might make his decision at 3:30 p.m. ET. 
To be more precise, no less than five police officers at LeBron James home. They were told to expect a 3:30 ET announcement.

— Sam Amico (@SamAmicoFSO) July 10, 2014
After that report surfaced, Hawkins sent out this tweet. 
3:30 was scheduled announcement time. LeBrons from the "330". #StayWoke

— Andrew Hawkins (@Hawk) July 10, 2014
Then Hawkins sent out a bomb saying that LeBron had signed with the Cavaliers. 
LeBron agrees to three-year, $60M deal with Cavs http://t.co/pvv5xKnQ5g via @espnnba

— Andrew Hawkins (@Hawk) July 10, 2014
The article that Hawkins links to is from 2006, but that didn't keep people from believing it. Once people figured out that it was a fake article, they were not amused. 
@Hawk that's evil

— coaster boy josh (@coasterboyjosh) July 10, 2014
@Hawk @ESPNNBA 2006 Hawk, come on

— Jimmie Teplitz (@jimmiefrye) July 10, 2014
@Hawk @ESPNNBA 2006, shame on you bruh

— Joe (@CleSoldier2011) July 10, 2014
@Hawk @ESPNNBA oh man, just for that I hope @DonteWhitner lays the wood on you in 16 days lol

— Derek (@Underdog017) July 10, 2014
Even Browns quarterback Brian Hoyer weighed in -- and he seems to think the entire incident was at least slightly funny.
@Hawk you're gonna gonna give this town a heart attack haha

— Brian Hoyer (@bhoyer6) July 10, 2014
However, Hawkins found the entire incident highly amusing and that's all that matters, right?
Not funny? Lol

— Andrew Hawkins (@Hawk) July 10, 2014
#Trolled em. (@GVMcElroy )

— Andrew Hawkins (@Hawk) July 10, 2014
Anyway, if Hawkins' Browns jerseys don't sell well in Cleveland, now you know why. 
Show Comments
Hide Comments
Our Latest Stories
Looks like Williams is already fitting in nicely in Cleveland

The Suns love to run, and Jackson's motor never stops

The Warriors general manager initially feared the injury was worse
Our experts address these questions and more in our 3-man weave

No timetable for Golden State star's return, knee injury will be re-evaluated in a month

Does this signal a prolonged absence for K.D.?