Bucks' Gary Neal asked Larry Sanders to try earning his money
The Milwaukee Bucks' blowout loss to the Phoenix Suns Saturday night resulted in Gary Neal and Larry Sanders exchanging words about earning their money.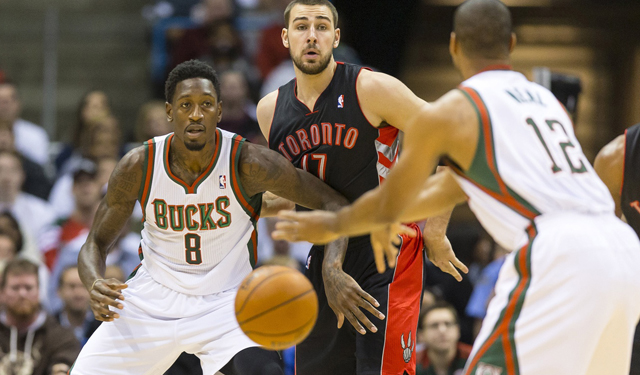 The Milwaukee Bucks have been the worst team in the league for quite some time. During most of their terrible stretch over the first two months of the season, they were without Larry Sanders, who missed 25 games with a torn ligament in his thumb in a night club altercation. With Sanders back from injury, you'd expect them to not be so bad and to come together better as a team.
That didn't happen Saturday night when the Bucks were embarrassed by the Phoenix Suns. After their 116-100 loss in Phoenix, Sanders and teammate Gary Neal were arguing after reporters were let in to the locker room. The reporters were asked to leave the locker room as the argument continued as Neal told Sanders he should try earning his money. From The Milwaukee Wisconsin Journal Sentinel:
The latest lopsided loss for the Milwaukee Bucks resulted in a bitter locker room argument between teammates Larry Sanders and Gary Neal.

The two were arguing after reporters were allowed in the locker room following the Bucks' 116-100 loss to the Phoenix Suns on Saturday night at the US Airways Center.

Reporters were asked by players to leave but the argument continued and Neal left shouting, "I earned my money. Why don't you try it?"

Sanders earlier could be heard questioning Neal's attitude.

But Sanders said he would not comment about the argument and said simply, "I had a bad game."
In 26 minutes as a starter, Sanders had just seven points on 3-of-5 shooting, two rebounds, one blocked shot, three turnovers, and four personal fouls. In 18 minutes off the bench, Neal recorded nine points on 3-of-8 shooting from the field and 1-of-5 shooting from 3-point range. He also had one rebound, one assist, and two turnovers. The Bucks were very bad with either player on the floor. Sanders' plus/minus for the game was a -26, while Neal registered a -20. 
The Bucks dropped to 7-26 on the season and are the only team that has failed to register double-digit wins. 
In the offseason, Sanders signed a contract extension beginning next season for four years and $44 million. Neal signed in the offseason for two years and $6.5 million.
(H/T - SB Nation)
Show Comments
Hide Comments
Our Latest Stories
The center says he's not exactly asking to be traded, but something must be done

The center signed a max contract in July

The storylines, they are a plenty.
This seems a little extreme, no?

The Pistons coach is pushing his players to register to vote

The Thunder center used to say 'No English' whenever the future Hall of Famer came around