Bucks giving away fantastic Giannis Antetokounmpo posters
The Milwaukee Bucks are enjoying the Giannis Antetokounmpo experience as much as the rest of us and are giving away a "Greek and still Growing" poster soon.
If you're like most NBA diehards and all Milwaukee Bucks fans, you're a fan of the "Greek Freak." Giannis Antetokounmpo has stolen the hearts of many basketball fans in this early season. His enthusiasm on the court, his massive hands and wingspan, and his potential have dazzled us in a season the Bucks would probably like to fast-forward.
If you're a Bucks fan in Milwaukee on January 15, the team is giving away "Greek and still Growing" posters of Antetokounmpo that will sure to be the envy of basketball nerds everywhere.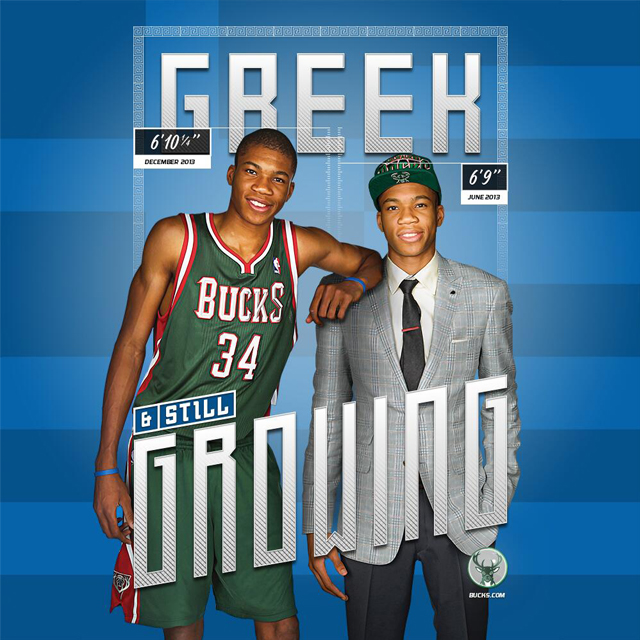 Antetokounmpo's season started off slowly but he's quickly earned the trust of the organization and Larry Drew. He's averaging 6.5 points, 4.5 rebounds, and 1.5 assists in 22.2 minutes while shooting 45.6 percent from the field. Those aren't bad numbers considering he's had limited, inconsistent minutes for half of the season so far and he has a usage rate of just 15.0 percent.
He just turned 19 in the month of December and is giving the Bucks a little bit of joy in a tough season to watch. Also, don't forget that he's willing to throw up the 3-antlers after made shots from downtown.
Show Comments
Hide Comments
Our Latest Stories
The center says he's not exactly asking to be traded, but something must be done

The center signed a max contract in July

The storylines, they are a plenty.
This seems a little extreme, no?

The Pistons coach is pushing his players to register to vote

The Thunder center used to say 'No English' whenever the future Hall of Famer came around