Bucks owner Kohl announces intention to 'broaden' ownership group
Majority owner seeks help to keep team in town through construction of a new arena.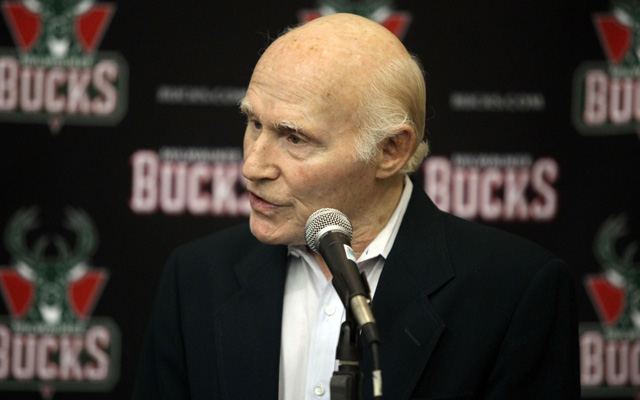 Bucks owner Herb Kohl announced Monday plans to "broaden" the ownership group of the team in an effort to keep the team in Milwaukee through the construction of a new arena. 
"When I bought the Milwaukee Bucks back in 1985, it was for one reason-to keep the team here.  To this day, that remains a top priority.  We are proud to be an NBA city.  We are very grateful to our fans and business partners who support us.  I am especially proud of the extraordinary people in the Bucks organization who work tirelessly to deliver a good product and great entertainment.  The best players in the world perform in our city every year, spreading the names of Milwaukee and Wisconsin around the country and, indeed, around the world.

Over the next several months I will be considering broadening the ownership of the Bucks as a way to strengthen the franchise and keep it in Milwaukee.  I have retained Steve Greenberg, Managing Director of Allen & Company, as my advisor.  I have done business with Allen & Co. for over thirty years and they are a great organization.  In the event new investor partners are added, they will need to be as committed to keeping the team in Milwaukee as I am.

In addition to committed ownership, it is imperative that we get to a new 21st century sports and entertainment facility in a timely manner, not only for the Bucks but also for the more than 1.5 million visitors who attend nearly 200 events held there each year."
via Milwaukee Bucks President/Owner Herb Kohl Announces Plan to Broaden Team Ownership, Strengthen the Franchise and Keep the Team in Milwaukee | THE OFFICIAL SITE OF THE MILWAUKEE BUCKS.
The former Senator is facing the very apparent reality that without a modern facility, the team may have to relocate. Adam Silver made it clear in a presason meeting according to reports that the city "needs" a new arena to replace the outdated Bradley Center which struggles with its suite configuration among other issues. Silver backed the NBA's presence in Milwaukee, but it's clear this is going to get to be an issue. 
Commissioner David Stern released a statement shortly after Kohl's announcement: 
"Senator Kohl bought the Bucks in 1985 in order to ensure the team would remain in Milwaukee. During his extraordinary stewardship his goal remained the same -- to bring the fans of Wisconsin high-quality basketball from a team they would be proud to call their 'home' team.  With this announcement, Senator Kohl continues his mission: to assure continuity of ownership by broadening its ownership base, and assuring that the fans of Wisconsin will enjoy NBA basketball and other events in a new state-of-the-art facility."
The move to incorporate new ownership will help Kohl out with generating revenue for the team by providing more support and will eventually likely lead to a transfer of ownership should Kohl's family not wish to keep its stake after Kohl is through being an active owner. This is  move to try and secure a stable transition for the future rather than risk a bidding war which could put the team on the rails out of town. 
The question is, even with ownership support, will Milwaukee and the state of Wisconsin bring their wallets to save the Bucks? 
Cleveland is one of Rose's biggest suitors, and the Irving situation could lead to an even...

Five years later and Celtics fans continue to throw shade -- Allen later deleted the comme...

Irving has a desire to team up with Butler dating back to June
Apparently, Irving first asked to be traded in June in hopes of joining Jimmy Butler in Ch...

Despite Melo being a good trade piece for the Knicks on paper, he has his sights set on joining...

Kyrie is reportedly open to leaving Cleveland, and New York is among his top choices to be...