Bulls' Derrick Rose out for the season after successful knee surgery
Chicago Bulls star Derrick Rose had successful surgery to repair his meniscus and is now out for the remainder of the season.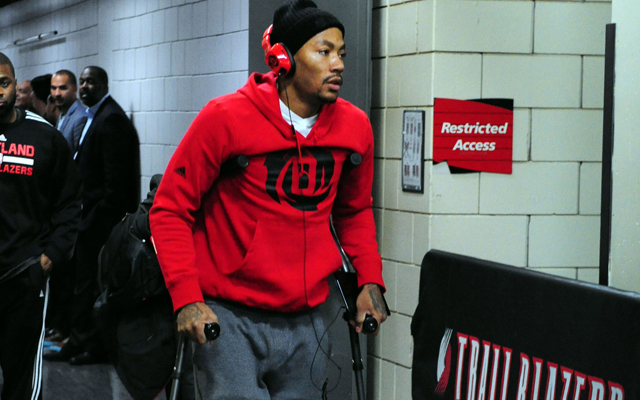 After missing the entire 2012-13 season while recovering from an ACL tear in his left knee, Chicago Bulls' star Derrick Rose will only get 10 games under his belt this season. After suffering a tear in his meniscus during Friday night's loss to the Portland Trail Blazers, Rose underwent successful surgery to repair the meniscus in his right knee Monday and the team announced that he is out for the remainder of the season.
Earlier this morning, Derrick Rose underwent successful surgery to repair his previously torn medial meniscus in his right knee... (cont.)

— Chicago Bulls (@chicagobulls) November 25, 2013
(cont.) ... The surgery was performed at Rush University Medical Center and Rose is out for the remainder of the season.

— Chicago Bulls (@chicagobulls) November 25, 2013
Rose suffered through an injury-riddled season in 2011-12 before tearing the ACL in his left knee in Game 1 of the opening round of the playoffs in 2012. With that injury and now his current recovery time, Rose will have played in only 50 of the possible 236 games the Bulls played from 2011-13 (including playoffs). The Bulls are left figuring out how to manage their time without him for the second time in as many seasons.
Following an MVP season in 2010-11, Rose became one of the biggest stars in the NBA and the Bulls' franchise focus. They were expected to challenge the Miami Heat in the Eastern Conference for a chance to compete for the NBA title. However, several injuries shortened the lockout-truncated 2011-12 season for Rose before he ultimately went down in the playoffs on a non-contact injury. Rose's return was in doubt throughout all of last season but there was always a glimmer of hope left for Bulls fans that he'd return and save their season.
After 18 months off, Rose looked spectacular in the Bulls' preseason campaign. He was as explosive as ever, was shooting the 3-point shot with accuracy we hadn't seen out of him, and it looked like he didn't accumulate any rust during his sabbatical. Once the season started, he faced tougher competition and more complicated defensive schemes. He didn't handle the adjustment all that well, struggling to find good shots for himself and help the team get back to being one of the best teams in the league.
For this season, Rose finishes with averages of 15.9 points, 4.3 assists, and 3.2 rebounds. Those are the lowest averages for his career in all three categories. He shot only 35.4 percent from the field and 34 percent from the 3-point line. He's the Bulls' third leading scorer behind Luol Deng and Carlos Boozer. 
Show Comments
Hide Comments
Wednesday's victory was truly a team effort

The Bucks forward praises the Celtics guard's embellishment skills

The Warriors make a statement with their impressive comeback victory in San Antonio
Westbrook notches the highest-scoring triple-double in NBA history, and rescues OKC in Orl...

The rapper and businessman had contracts with the Hornets and Raptors in the late 1990s

Cleveland's point guard is looking in the mirror