Bulls' Derrick Rose says minutes limit isn't keeping him from return
Derrick Rose isn't resisting return due to possible minutes limitation.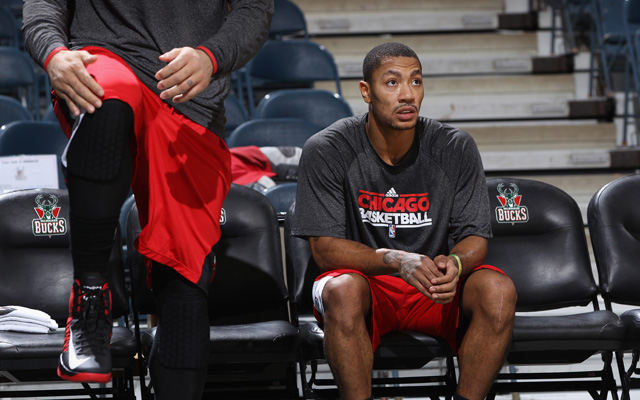 At this point, the reason Bulls guard Derrick Rose hasn't returned from the ACL tear he suffered a year ago is like the Kennedy assassination. There are a million theories around it and no one really knows. 
One of the new ones is that Rose is hesitant to return because he doesn't want a minutes-limit return if he comes back. Over the weekend, Rose disputed that idea: 
"I wouldn't mind at all," he said. "Of course I want to play more. But it's not that big. I'm going to play whenever I'm ready. I don't care if it's 15 or 40 (minutes). I just love the game too much. Like I said, I'm just waiting and praying about it. And hopefully I'll be out there soon."

Since the likelihood of Rose sitting out the season increases with each day, he got asked if having another summer of rehabilitation and drill work would benefit him.

"I think it is where it gives me more time to work out if I don't play," Rose said. "But I think I have enough time already knowing I haven't played in a long time. Just taking that time and getting my body together, it could definitely be big. But I'm going to come back whenever I'm ready."
That doesn't solve the big question, "When is he coming back?" But at least it's an indication Rose doesn't have specific expectations for his play or the conditions of his return outside of having to be "ready."
And the reality is that this was a traumatic injury and as frustrating as it is for fans to have another non-update (and for us to have to write another non-update), nothing's going to change one simple fact. 
Rose is coming back when he's ready. And no one's going to be able to figure that out other than Rose, and he won't know until it happens. 
Show Comments
Hide Comments
Our Latest Stories
In another shootout, the Washington got the best of LeBron James and co.

It doesn't, however, sound like he's looking for an official role

This isn't what you'd call peaking at the right time as Utah have lost four of its last fi...
Golden State is hoping to get Durant back before the end of the regular season

Shaquille O'Neal wishes his resume was a little bit stronger

The Philadelphia big man said it went 'better than expected'