Bulls-Nets: Joakim Noah's impossible resolve
Joakim Noah wants to win more than you, and he showed it in Game 2.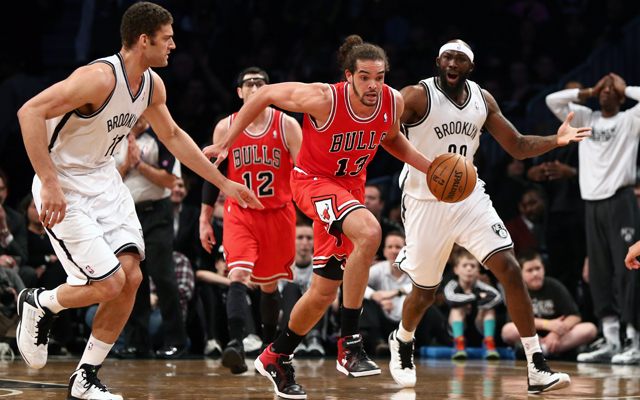 Joakim Noah added another chapter in his long-running book of playoff heroics Monday night.
The Bulls C has been limited all season with plantar fasciitis, a remarkably painful injury that has limited the seasons of great players like Tim Duncan. He's managed to play through it, but it's kept him in pain and limited his impact, especially at the end of the season when the condition worsened. He played just 13 minutes in Game 1 and it was painful just to watch Noah move.
In Game 2, he played, and was supposed to be limited to 20-25 minutes due to the pain. He played 25 minutes and 29 seconds. He shot 4-8 from the field, had 11 points, 10 rebounds, 3 assists, and 2 blocks.
More on Bulls-Nets
Column

Related links
And that doesn't begin to underline his impact. Noah was everywhere, finishing dunks, nabbing offensive rebounds, covering rotations, fronting perimeter drives, and being the kind of difference maker he is when healthy, but doing it on one foot.
This is the same Noah who took it to Paul Pierce in 2009, that has plagued countless teams in the playoffs as "that guy." Noah should have been ineffective and limited. But somehow, he gutted his way back and not only gave it a good effort, but carried his team to a win.
The Bulls were blown out in Game 1 and were on the road in a pumped (if inexperienced) environment. They've had so many injuries this season, and that's not even counting the big one we're not talking about here. So many teams would have just collected paychecks and bowed out. The Bulls, though, are led not only by a high discipline defensively which was on show Monday, but a resolve that is represented by Noah.
Noah's athleticism would have made him a good basketball player. There are plenty of those guys on every roster. But Noah combines that with a will to win. I don't buy into the talk of heart and grit too often. I think there are X's and O's, tendencies, and percentages. But watching Joakim Noah Monday night, you couldn't come away with anything but the knowledge that there are some guys who will give literally everything to help their team win, and there are guys who won't.
The Nets found too many of that latter category on Monday, as their interior players were out-hustled, out-worked, out-skilled. The Nets still had chances to take the game and couldn't do it, beause the Bulls were first to loose balls, first to rotations, first to the rim. Things came easy on Saturday in Game 1. When Game 2 came around, things were tougher, and the Nets couldn't respond. They have to be "those" guys if they want to take this series. They're the better team due to injuries, but the Bulls won't give it to them.
Joakim Noah is, as always, one of "those" guys who will, love him or hate him.
Show Comments
Hide Comments
The two best point guards in the East go at it in a series sure to be filled with drama.

Breaking down key matchups as the second season reaches the conference semifinal series

The second round of the 2017 NBA Playoffs tips off Sunday at 1 p.m. ET, with Game 1 of Cel...
The Spurs have homecourt advantage, and will host Game 1 Monday night at 9:30 p.m. ET

All-Star guard flew to Washington after Game 6 vs. Bulls to attend his sister's funeral Sa...

Some love for the Rockets over the Spurs, and at least one expert says the Cavs are going...