Capitalizing on big career, NCAA game, Cleanthony Early set to cash in
The fiery forward out of Wichita State is trying to prove himself ahead of this month's draft.
• 3 min read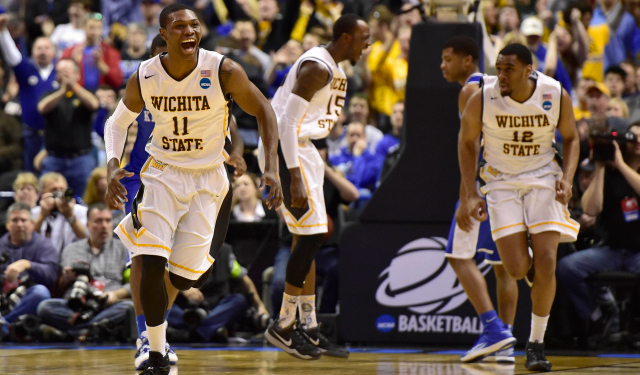 More Offseason Analysis: Coaching changes, news | Free Agency | Draft
TORONTO -- In perhaps the most thrilling battle of the 2014 NCAA Tournament, Cleanthony Early looked like the best player. Facing Kentucky, the Wichita State forward attacked the rim at every opportunity. He gamely defended the bigger, stronger, highly touted Julius Randle. A terror in transition as always, he also made 4 of 6 three-point attempts with zero hesitation. The Shockers lost by two, ending Early's college career, but he finished with 31 points on 12-of-17 shooting, plus seven rebounds, a block, a steal and an unforgettable dunk. People bring up the game with him all the time.
"It showed that I was competitive and that I'm really, really hungry," Early said. "And that I wanted it just as bad as those guys."
That performance made a lasting impression, but he immediately had to shift his focus to the pros. Wednesday's predraft workout in Toronto marked Early's ninth such session, and he has three more scheduled. He called the process a dream come true. He's trying not to get caught up in the moment, though, and to put his head down, to "strive for greatness."
Early will be drafted in two weeks, and he smiled wide when saying he's been picturing it since he was a little kid. His path was far from preordained -- he spent his freshman and sophomore seasons at Sullivan County (NY) Community College, then began his junior year at Wichita State as a reserve. In and out of the starting lineup depending on injuries, he made his name during the Shockers' surprising trip to the 2013 Final Four. 
As a senior Early was the star and the pulse of a team that went 35-0 before running into the Wildcats. No matter the situation, he plays the same way. The rare big name with the spirit of an energy guy, he is fiery, fearless and makes no attempt to conceal his emotions.
"He's extremely competitive," Raptors director of scouting Dan Tolzman said. "The biggest thing is he comes in and he tries to just dominate everybody." 
Early was a combo forward at Wichita State, but at 6-foot-7 his future is on the perimeter. While Early shot 37.5 percent from 3-point range, a positive sign, there are doubts about the 23-year-old's skills with the ball in his hands. He answers quickly and confidently when asked what he's been working on.
"Pretty much everything," Early said. "Ballhandling, thinking like a 3, coming off the screens, spot-up shots, off-the-dribble shots, finding my teammates in corners, pocket passes, just reading the defender, defense. Anything that there is to work on in the game of basketball, I wouldn't limit myself and not do. There's 24 hours in a day and there's not much else to do but play basketball and work on your craft."
When teams bring players in at this time, they try to make the setting as game-like as possible. There are serious limitations, but even if it's just a half-court situation the idea is to get them competing with one another. When Early went to Boston alongside a collection of other wings, he told reporters he was trying to show the Celtics "that I'm better than these guys." This attitude generally bodes well in the eyes of executives.
"One thing we do in these workouts is we track wins," Tolzman said. "It doesn't matter if it's a drill; if it's an individual drill, a team drill, just a shooting contest, anything, we just track the wins. Guys like that, it seems like the hard-working guys, the competitive guys, they figure out ways to get wins. It might be a 3-on-3 drill, but if their team is always winning, I think that says something about the guy."
Widely projected as a first-round pick outside the lottery, Early has the makings of a solid NBA small forward. There is room for growth and it might take some time, but he's sure he's prepared for it. That's what he wants everyone to know.
"I'm here to stay," Early said. "And I'm going to continue to improve and get better. That's it, really. It's not much to be said. I like to talk, but I'm obviously a person that wants to back up what he believes and what he practices. At the end of the day, I'm going to go out there and show and prove that I belong."
Show Comments
Hide Comments
Breaking down key matchups as the second season reaches the conference semifinal series

The second round of the 2017 NBA Playoffs tips off Sunday at 1 p.m. ET, with Game 1 of Cel...

The Spurs have homecourt advantage, and will host Game 1 Monday night at 9:30 p.m. ET
All-Star guard flew to Washington after Game 6 vs. Bulls to attend his sister's funeral Sa...

Some love for the Rockets over the Spurs, and at least one expert says the Cavs are going...

Ball is expected to be one of the top picks in the NBA Draft later this summer