Carlos Boozer unhappy with fourth-quarter minutes
Bulls forward says it's "up to" Tom Thibodeau, but thinks he should be playing.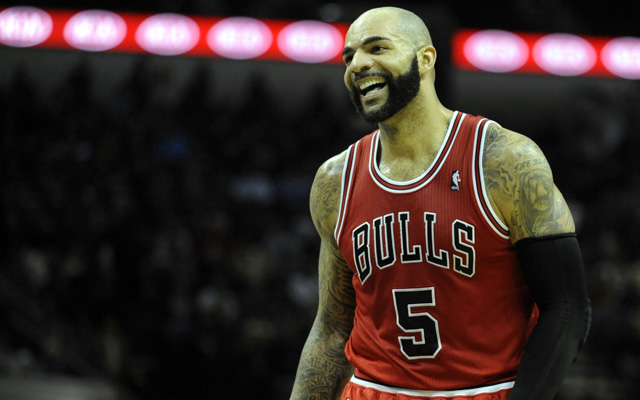 For years, Bulls coach Tom Thibodeau has elected to use Taj Gibson in the fourth quarter. In 2011 and 2012, he'd use Gibson along with then-reserve center Omer Asik to close games because of their defensive acument together. That would mean Carlos Boozer and Joakim Noah would be on the bench. This year, Noah's still in the game late, with only Nazr Mohammed behind him. 
But Boozer has seen his fourth-quarter minutes stay lower than you would expect for a starting power forward of Boozer's caliber. When the Bulls were title contenders, it was one thing. But now that they're not, Boozer's openly objecting. From ESPN Chicago: 
"I think I should be out there," said Boozer, who is in the midst of his worst season as a Bull. "But it's [Thibodeau's] choice. He makes the decisions out there, so I play. I don't coach. He coaches. So he decides that.

Carlos Boozer, who is averaging 14.8 points, hasn't played in the fourth quarter of the Bulls' past two games. "It's very frustrating, especially when I've got a great game going or what have you," he said.

"But honestly, he's been doing that a lot since I've been here, not putting me in in the fourth quarter. Sometimes we win; more times than not, we don't. But that's his choice."

Boozer, who is averaging 14.8 points and 8.5 rebounds per game this season, said it's tough to watch the end of games from the bench. He is averaging 29.8 minutes a game. In the lockout-shortened 2011-12 season, he averaged 29.5 minutes a game.

"Super tough," Boozer said. "It's very frustrating, especially when I've got a great game going or what have you. Obviously as a competitor, you want to be out there to help your team win and especially when the game is close. You can do things that can help your team win. Not being out there, all you could do is really cheer them on. But that's [Thibodeau's] choice."
via Carlos Boozer of Chicago Bulls upset with lack of minutes in fourth quarter - ESPN Chicago.
Bulls blog Blog-A-Bull did some analysis on Boozer's fourth-quarter minutes, and... they are not good. They are not good at all. 
In 116 fourth-quarter minutes, Boozer is shooting just 40.0 percent from the field, by far his worst mark of any quarter (not counting overtimes). Meanwhile, Gibson is at 49.0 percent in 451 fourth-quarter minutes.

Going further, the team has simply performed better with Gibson on the court in the fourth quarter this year. Gibson has a net rating of 0.9 in the fourth quarter, while Boozer's is -7.0. Want more? Boozer is generally terrible when the game is close, shooting under 40 percent when the score is within five points. Gibson is at 47.0 percent in those situations this year.
via Carlos Boozer isn't happy about being benched in 4th quarters - Blog a Bull.
Now in the fourth quarter, per NBA.com, the Bulls are -1.7 points per 100 possessions this season. The big problem is their 100.2 offensive rating. So you can make the argument that having their best scoring threat on the floor in that situation would be preferable. But what's amazing? With Boozer on the court, their offense actually gets worse at 98.2 points per 100 possessions. 
The elephant in the room is that if the Bulls had Derrick Rose, this wouldn't be a problem. The Bulls would probably have righted the ship and would be sitting pretty and no one complains when the team is winning tons of games instead of limping through at .500. And if not, at least you could justify having Boozer on the floor because he works best when the complimentary offensive weapon. 
The most notable thing from this situation is that it's one of the few times that Thibodeau has taken any public grief from a Bulls player. To a man, it's been said that they all buy in and trust him. This is a different issue, and it comes from a player who could be amnestied this summer. And make no mistake, that plays a part here. Boozer's value is dropping, so he wants his minutes. But Thibs will always do what he thinks will win him games, and that will always be defense. 
Show Comments
Hide Comments
Series prices show Dubs light years ahead

Green responded that he's 'the modern day Draymond Green'

Our experts predict whether the Jazz can compete with Golden State, along with the rest of...
Breaking down key matchups as the second season reaches the conference semifinal series

Pierce's 19-season run in the NBA ended Sunday as the Clippers bowed out of the playoffs

Utah overcame its relative lack of experience with a balanced, deep and versatile roster