Carmelo Anthony denies rumor he wants out of New York
Melo reportedly wants off the sinking ship of the New York Knicks, but he says that's just 'not true.'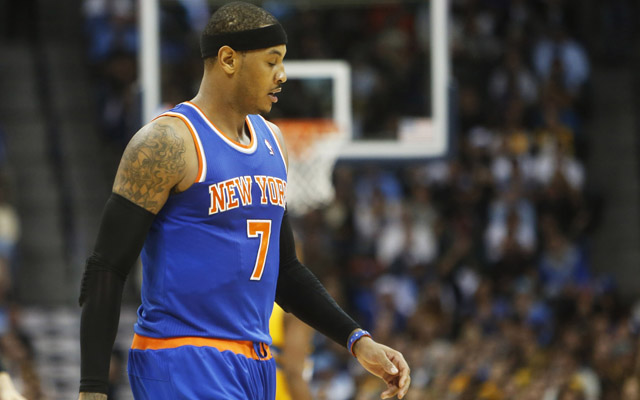 On Thursday before the Nets and Knicks meet in a battle of disappointing teams, ESPN commentator Stephen A Smith, well-known to be close to NBA superstars, said in an appearance that Carmelo Anthony wants out of New York. 
"Carmelo Anthony is gone," Smith said. "Ain't no way in hell he's staying here (in New York). I'm hearing this is it. He's out. Unless the money disappears elsewhere, because he definitely wants to get paid. He's not trying to stay here for this."
Anthony denied the comments Thursday at shootaround. 
"I don't know who his sources are, but if it's not coming from me, if it's not coming from people I talk to on a daily basis, which I don't talk to anybody about that -- anybody on my crew, anybody on my team, family, nobody -- then it's just not true."
via Steve Popper's post on Basketball | Latest updates on Sulia.
The Knicks are a mess right now, 3-13, 26th in net points per possessions, third worst in points per possession allowed, etc. So you're going to hear a lot of this as the rats escape the ship. But a bad season from New York would probably not be enough to get Anthony out the door. They can pay him the most money this offseason if he opts out, give him the longest deal, and provide him with the best location to build his brand. 
Their overall plan may be flawed, but this organization has completely reshaped itself in Melo's image. They're as close to worshipping Melo as a golden calf as it gets. Members of his agency work in the front office. They have surrounded him with players he likes and trusts. Is he really going to turn his back on the most lucrative and cushy position he can have in this league because the season goes badly? 
Also, it's December 5th. Maybe give this some time before plotting Melo's escape trajectory. 
HT: HoopsHype
Jared Sullinger wants back in the NBA; he knows his weight will play an important part

Cleveland is one of Rose's biggest suitors, and the Irving situation could lead to an even...

Five years later and Celtics fans continue to throw shade -- Allen later deleted the comme...
Irving has a desire to team up with Butler dating back to June

Apparently, Irving first asked to be traded in June in hopes of joining Jimmy Butler in Ch...

Despite Melo being a good trade piece for the Knicks on paper, he has his sights set on joining...