Carmelo Anthony preparing for better competition in the East
New York Knicks' forward Carmelo Anthony is preparing himself for the increased competition in the Eastern Conference this season.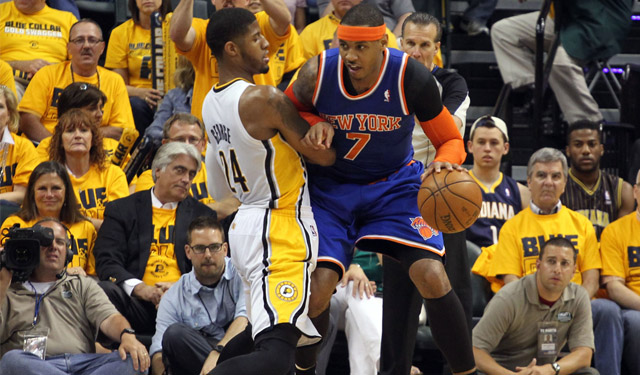 The offseason isn't just a time for NBA players to get some much-needed rest after such a long and taxing season. The rest is something they can only do for so long before they have to get back to training their bodies to prepare for the seemingly unending campaign of the regular season and, if they're lucky, the playoffs. As we're a little over a month away from the start of training camp, players are putting in their last little preparations of training before they give over a lot of control to their respective NBA teams.
New York Knicks forward Carmelo Anthony knows the rigors of the 2013-14 season ahead of him with the Brooklyn Nets, Chicago Bulls, and Indiana Pacers all improving and looking to dethrone the Miami Heat as the top team in the Eastern Conference. But it's nothing that Anthony is necessarily worried about as of right now. He's looking forward to getting back at it after putting up the best season of his career and seems to relish the competition before him. From ESPN New York: 
And Melo feels the East is now more competitive than its conference counterpart. 

"When I was in the Western Conference, everybody was talking about how the West is so much better," he told ESPNNewYork.com on Wednesday. "But now, the power has shifted back into the Eastern Conference, so we're ready. We're excited about that." 
The 2012-13 season for Carmelo Anthony was his best by a lot of statistical measurements. He won the league's scoring title with an average of 28.7 points (the second-highest scoring average of his career), but the advanced statistics are really where you see just how nice of a season he had. Anthony had the highest output of his career in PER (24.8), Win Shares (9.5), and WS/48 (0.184). He also had the highest 3-point shooting percentage of his career (37.9 percent) and the lowest turnover percentage (9.3 percent) of his career.
However, that individual success apparently isn't keeping him from trying to improve even further at the age of 29. He's still working with longtime trainer Idan Ravin, The Hoops Whisperer as portrayed in Chris Ballard's fantastic book The Art of a Beautiful Game, trying to find yet another extra edge as he prepares for his 11th season in the NBA. More from ESPN New York:
This offseason, Anthony has been in Los Angeles working out with his longtime trainer, Idan Ravin, performing basketball, beach and weight workouts. Melo called it a "great summer" as he prepares for the season. 

"[Idan and I] are always trying to figure out what's that next move or how we're going to push this year. And I think we did a great job of just coming up with something and just running with it," Melo said. "Just certain dieting things, just taking chances with different styles of training -- not just doing stuff on the basketball court or in the weight room. I'm trying to just push the limit." 
In Ballard's book, Anthony credits Ravin with knowing his clients so well that he's able to push them beyond their physical basketball capabilities because he knows them well enough to get inside their heads and find an extra mental gear for them to tap into when they train. As they train this summer to get ready for the 2013-14 season, Anthony doesn't necessarily need extra motivation. 
The Nets acquired Kevin Garnett, Paul Pierce, and Andrei Kirilenko this offseason. The Chicago Bulls are getting Derrick Rose back from injury and improved their bench quite a bit with Mike Dunleavy and Tony Snell. The Indiana Pacers found themselves a deeper bench with Luis Scola, C.J. Watson, and Chris Copeland. The Knicks added to their bench with Andrea Bargnani and Beno Udrih, but mostly they'll need health from their core and for Carmelo Anthony to have an even better season than his career year. 
Show Comments
Hide Comments
Kerr's health situation is worse than previously thought

Golden State has a 3-0 lead heading to Portland on Saturday

The playoffs are starting to heat up
Our experts predict every series in the 2017 NBA postseason

Our NBA experts predict the first round of the NBA postseason

The Warriors continue to roll without Durant