Carmelo Anthony sets U.S. men's Olympic record for points
Carmelo Anthony sets U.S. record for most points in an Olympic basketball game.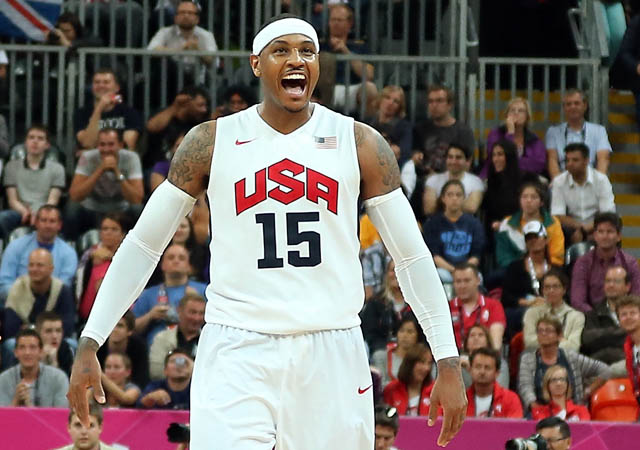 So Melo had a pretty nice day.
(Getty Images)
Carmelo Anthony is your all-time U.S. scoring leader in Olympic basketball history. Anthony scored 37 points in less than two and a half quarters of play vs. Nigeria Wednesday, breaking the record  for most points in a single game for one player. He had 37 before Coach K pulled him out, presumably to prevent the building from burning down. 
Melo shot 10-12 from the arc as the United States absolutely blistered Nigeria from the start, with Anthony leading the way. A remarkable performance for this team responding to a slow start vs. Tunisia on Tuesday, and for Melo, a reminder of just how good he can be, especially when he's in a catch-and-shoot mode. 
Oh, and Anthony scored 37 points in just 14 minutes. 
37 points. 
14 minutes. 
The United States record for most points in international play is 38 by Kevin Durant during the FIBA World Championships in 2010. Team USA won 156-73.
Cleveland is one of Rose's biggest suitors, and the Irving situation could lead to an even...

Five years later and Celtics fans continue to throw shade -- Allen later deleted the comme...

Irving has a desire to team up with Butler dating back to June
Apparently, Irving first asked to be traded in June in hopes of joining Jimmy Butler in Ch...

Despite Melo being a good trade piece for the Knicks on paper, he has his sights set on joining...

Kyrie is reportedly open to leaving Cleveland, and New York is among his top choices to be...