Carmelo Anthony: 'We're not playing worth a [expletive] right now'
Carmelo Anthony is worried about the New York Knicks, hoping they can give a better effort and get out of the early hole they've dug themselves.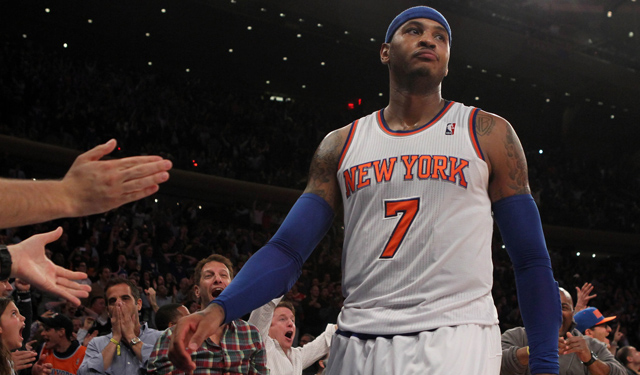 The New York Knicks are not in a good place right now. Their top defensive presence, Tyson Chandler, is out for probably another month and the rest of the team seems to be falling apart before our very eyes. After losing to the Atlanta Hawks in blowout fashion on Saturday, the Knicks fell to 3-6 on the season and 1-5 at home. The offense isn't clicking, the defense is abysmal, and there aren't any real moves that can be made to right the ship.
Carmelo Anthony is certainly concerned with what he's experiencing on the court with his play and the play of his teammates. Marc Berman from The New York Post has quotes from Anthony following their 20-point loss to the Hawks in which he's questioning the effort of him and his teammates out there. 
"I'm disappointed in all our effort," Anthony said. "We're not getting it done from an effort standpoint. It's like we're not even trying right now.'

"We can't worry about the boos. We got to play harder. We're not playing worth a [expletive] right now."
I think it's good that Melo is chalking this up to an effort thing with this team and maybe it is an effort thing. Effort is a lot easier to cure than a lack of talent and correctly fitting talent might be. However, a lot of concerns about the Knicks going into this season were about how the new additions to the team would fit. Mostly, would Andrea Bargnani and the return of Amar'e Stoudemire be something that could be implemented into the rotation?
Last season the Knicks had the third best offense in the NBA. They've fallen to 18th in the league in offense to start this season. Defensively, they've fallen from 17th in the NBA to 27th this season. They had hopes of contending with the Heat, Nets, Bulls, and Pacers going into this season but if they don't get their game plan and effort together, they'll be fighting for their playoff lives after a couple of months of this kind of play. Carmelo continued:
"It's surprising. To come into the season with a mindset of being better than we were last year and to be where we're at right now. I know it's 3-6, but we got to turn this around quickly. It's a nasty feeling within the team."

"I know it's early in the season, but at the rate this is going, we're going to be in too deep a hole to dig out,'' Anthony added.
It's definitley not time to panic, yet; the Knicks are only a half game out of the eighth seed despite how bad they've been to start this season. However, at a certain point you have to see signs of improvement. They haven't done that and the flashes of good player have been quickly extinguished with frustration. Perhaps Melo's comments about the team can light a fire. 
Griffin and the Clippers are at a crossroads

"He left because he wanted to be with James Harden," the Los Angeles coach said

The Warriors have shown that simply putting talent together isn't enough
Hayward will be in Miami this weekend, while Utah and Boston also have meetings scheduled

Sacramento signs Serbian to 3-year, $36 million contract while passing on Ben McLemore

Free agency is around the corner, which means there could be a ton of significant moves coming...