Carmelo Anthony's former teammate thinks he's leaving New York
Start spreading the news, random anonymous former teammates are convinced Carmelo Anthony will leave New York as a free agent.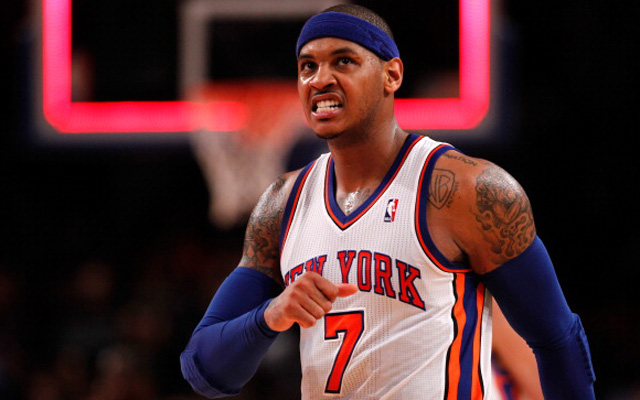 An anonymous former teammate of Carmelo Anthony's told the New York Daily News that he thinks Carmelo Anthony will leave the Knicks as a free agent. 
"I think he's leaving. I've played with Melo for a long time and he knows he can't win here. At this stage, all he wants to do is win. That's why he'll leave."
via Former teammate thinks Carmelo Anthony is leaving Knicks - NY Daily News.
The Knicks All-Star can opt out of his deal this summer and become a free agent. New York will be in position to offer over $30 million more with an extra season over any other team, provided they don't trade Anthony before the trade deaedline in what would be the ultimate panic move. 
New York is 9-21 as they begin a Western Conference road trip Thursday against the Spurs. Anthony has missed the past three games with an ankle injury. The Knicks lost all three games without Anthony. 
Does the former teammate know him well enough to know where his decision making is at? There's no way to know with the anonymous nature, but it's probably not good for the Knicks that this is even up for discussion or that former teammates feel strongly enough to weigh in. Still, there's plenty of time to turn the ship around and time enough to make Anthony want to remain in New York. The Knicks organization is full of people with ties to his representative agency, CAA, and the Knicks have more free agency pull than any other team he could go to outside of the Lakers. 
The Lakers remain the only real option for a destination should Anthony decide to leave, based on cap space, his relationship with Kobe Bryant, and the star power Los Angeles affords. Not like he's going to bail on New York for Charlotte or Milwaukee. 
Anthony is averaging 26.3 points and 8.8 rebounds this season for New York. 
Show Comments
Hide Comments
Shaq says LeBron isn't comparable to any one legend, rather a mixture of several greats

Kevin Love says the Cavaliers are on the same level as the Warriors: 'We match up well'

Former Lakers star is now an executive for Golden State
How do the Cavaliers flip the script for a second straight year?

Boston lacks the size, rebounding and rim protection necessary to take on bigger lineups

What happens when the Death Lineup comes in? Can Kyle Korver keep it up?