Cavaliers' Anthony Bennett has asthma, sleep apnea
Cleveland rookie dealing with various issues causing complications with his respiratory system.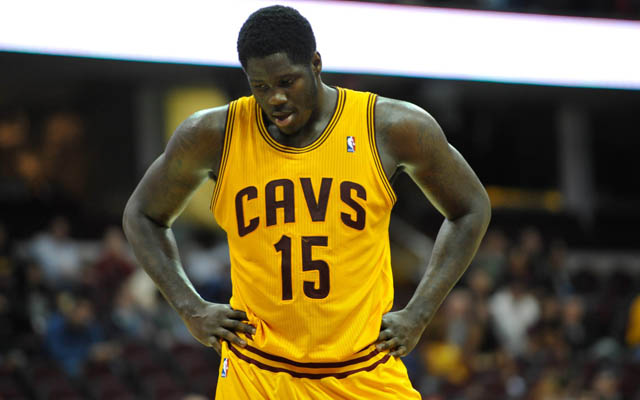 Cavaliers coach Mike Brown told reporters Thursday that No. 1 overall pick Anthony Bennett is winded in practice and in games in part because of two medical conditions that previously had not been revealed. From the AP: 
Cavaliers rookie forward Anthony Bennett, the top pick in this year's NBA Draft, has asthma and sleep apnea.

Cleveland coach Mike Brown revealed Bennett's conditions Thursday night before the Cavs hosted the Detroit Pistons in an exhibition game. Bennett's asthma was not widely known and obviously did not prevent the Cavs from taking the former UNLV star in June's draft.

Bennett has had some breathing issues during workouts and in preseason games, and him being sometimes winded had been attributed to him not being able to work out as much this summer after undergoing shoulder surgery in May. But Brown said Bennett also deals with asthma and wears a mask at night for his sleep apnea.

"It's a culmination of a lot of things," Brown said. "The shoulder, he's been out for a while, he's got asthma. We're throwing a lot at him. He's probably never played this hard against this competition in his life. He's got sleep apnea and some other things. He likes to stay up late."
via Cavs rookie Bennett dealing with asthma | NBA.com.
The big forward has had mixed results in preseason. Thursday night, he had 12 points on 4-of-7 shooting and four rebounds. But he has looked out of shape and gasping for air during stints. He thought that the shoulder surgery was the source of that, and that he'd work through it. But these conditions, particularly the asthma, can further complicate his progress towards getting in shape. 
Nuggets forward JaVale McGee has asthma and has said in preseason that it still bothers him, even two years after being moved to Denver and a drier climate (albeit one with a higher altitude). 
We'll see how Bennett adapts, but in general, the rookie looks pretty good early even with these issues. 
Show Comments
Hide Comments
The two best point guards in the East go at it in a series sure to be filled with drama.

Breaking down key matchups as the second season reaches the conference semifinal series

The second round of the 2017 NBA Playoffs tips off Sunday at 1 p.m. ET, with Game 1 of Cel...
The Spurs have homecourt advantage, and will host Game 1 Monday night at 9:30 p.m. ET

All-Star guard flew to Washington after Game 6 vs. Bulls to attend his sister's funeral Sa...

Some love for the Rockets over the Spurs, and at least one expert says the Cavs are going...