Cavaliers' LeBron James says David Blatt firing was a surprise
Cleveland forward LeBron James said he found out with the rest of the team about David Blatt's dismissal.
• 1 min read
Cleveland Cavaliers forward LeBron James said he was surprised and caught off guard by the firing of coach David Blatt, via the Cleveland Plain Dealer's Chris Haynes. James called the move unfortunate, but added that Cavaliers general manager David Griffin's comments on Friday were correct:
LeBron on David Griffin: "I think he was right on everything he said ... Like it or love it or hate it, we got to respect it"

— Dave McMenamin (@mcten) January 23, 2016
In case you missed it: Griffin said that the team wasn't connected, pretty good wasn't good enough and he was judging more than the record. James echoed Griffin, saying that he'd previously told the media that it wasn't about wins and losses and now everyone can see what that means.
James added that the Cavs were "affected way before Monday," via the Cleveland Plain Dealer's Joe Vardon. If that's the case, then should this really be a surprise? 
It sounds like, while the timing shocked everybody, there were clearly problems in Cleveland. In a way, this came out of nowhere. In another way, this was a long time coming.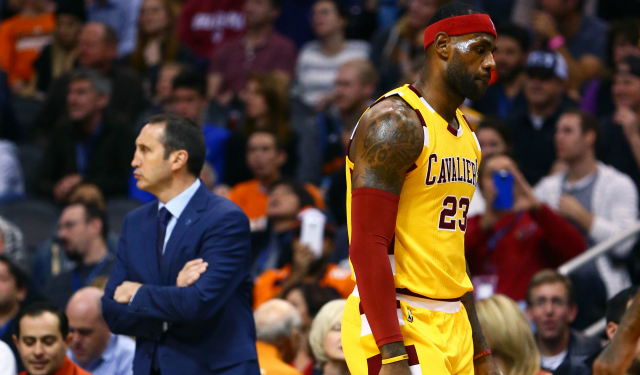 Chicago needs to decide whether to pay Rondo $13.4M next season or buy him out for $3M

Rose played in 64 games for the Knicks before a season-ending knee injury

Durant chose an odd way to shout out his former OKC teammate
Teams are reportedly trying to bring in the veteran forward in an effort to weaken the War...

LeBron has reportedly already ruled out any chance of joining the Clippers

The Thunder plan to offer the recently named MVP a massive five-year extension worth around...