Cavs' Andrew Bynum practicing 5-on-5, could return soon
The Cavs could have their new big man investment back sooner than later, but there's still no official timetable.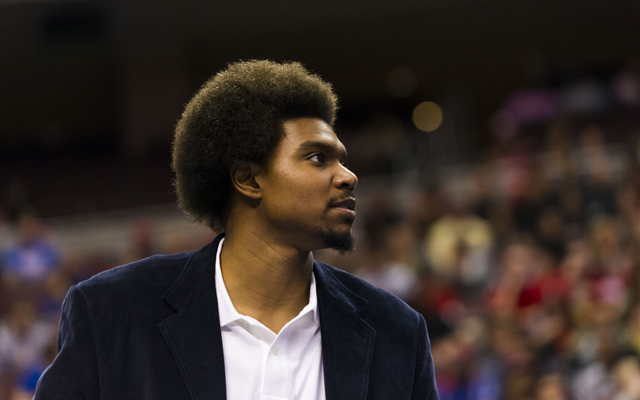 After sitting out all of last season, Andrew Bynum isn't back yet and will sit Wednesday night as his Cavaliers take on the Nets.
However, he could be close to returning. 
"He's been practicing 5-on-5 the last week-and-a-half," Cavs coach Mike Brown said, via The News-Herald. "When it gets to the point where we all feel he's (ready to play), we'll clear him."
Bynum, 25, hasn't played in a game since May 2012 when he was with the Lakers. He was traded to the 76ers where he didn't appear once, and in free agency signed a $24 million deal with the Cavs, with only about a quarter of it guaranteed. 
Bynum resumed basketball activities about a week ago and him progressing to 5-on-5 drills is a positive sign for a return. No setbacks, no swelling, no issues. A big part of his return will be conditioning since again, it's been a while since he's played. 
Show Comments
Hide Comments
The FEDS are coming, and it's not just for your second round picks anymore

Here's hoping that Fultz's NBA career starts off better than his marketing one

The Knicks' eclectic owner will not be at the Barclay's Center due to the scheduled concer...
This is an amazing move for Minnesota, with playoff contention -- and more -- possible

The Lakers' new GM made his big board perfectly apparent after drafting Ball

The Kentucky product wasn't lacking for confidence after being selected with the No. 11 pi...