Cavs GM didn't hold back criticism of David Blatt in press conference
The Cavaliers' GM discussed the decision to change coaches midseason in a very revealing press conference.
Cleveland Cavaliers general manager David Griffin spoke with the media Friday after the team announced the firing of coach David Blatt. It was a remarkable press conference with blunt yet confusing statements from Griffin, who took over two years ago as GM and has overseen the construction of a contender with the addition of LeBron James. Here are the eight biggest quotes/takeaways from a wild presser. 
1. 'Pretty good wasn't good enough.'
That was the quick summation from Griffin for what happened, and it's an accurate reflection of the Cavaliers' situation. The Cavs are built to win a title. That's what you have to do when you have LeBron James at age 31. The window is not open forever and you have to maximize every opportunity you have to try and get there. That's why you trade for Kevin Love. That's why you pay a huge luxury tax bill. And that's why you fire your coach no matter his record if you truly don't believe you can win a title with him. 
The Cavaliers are good enough to win the No. 1 seed in the East, good enough to reach the Eastern Conference finals and good enough to represent the East the NBA Finals. But there's no evidence that the team is good enough to compete with, let alone defeat, the San Antonio Spurs or the Golden State Warriors, and that's all that really matters. That's what the Cavaliers have to get to, that's the level they have to reach. The impression Griffin was given was that the team couldn't get there with Blatt. 
2. 'There's just a disconnect right now, a lack of spirit and disconnectedness I can't accept.'
Griffin twice used that phrase, "disconnectedness" as the reason why he made the decision. Ken Berger of CBS Sports has more on the most important disconnect, that between LeBron James and Blatt. But on a larger level, the whole team lacked a mindset it needed this season. The players showed up, knowing they could beat teams like Charlotte or Orlando, but they also struggled when faced with real challenges and rarely looked like a team singularly focused on tearing the league apart, even as they racked up wins. 
3. 'I'm judging a lot more than wins and losses.'
Griffin made it clear that the team's record, which everyone points to with Blatt, wasn't going to be enough to save his job. The team won a ton of games under Blatt, but how you win matters when you're a title contender. When you're a struggling team trying to make the playoffs, you take wins any way you can get them. That is never the case with a title contender. You need excellence, as well as success. The Cavs have been successful vs. other teams, but not excellent when you examine how they compete. 
4. 'LeBron [James] doesn't run this organization. ... This narrative that we're somehow taking direction from him isn't fair.'
Griffin went out of his way to challenge what is a fairly well-established narrative that James is involved in every key decision. Griffin said that he consults with all the players about where the organization is at and what they need to do, but was adamant that he did not clear the move with James. No one actually believes this, but it's the story the Cavaliers are trying very hard to sell. Even if Griffin made the move without clearing it with James, it would be because he didn't have to. Point blank, if James wanted Blatt to still be the coach, he would be. But the Cavaliers really hate the widely accepted assumption that they're not in control of their own franchise, and Griffin's correct that it's unfair to establish James as "responsible" for decisions, right or wrong. 
5. 'I think ownership has spent an unprecedented amount of money on this team.'
Blatt mentioned the Cavaliers' payroll situation multiple times. That seems like a pretty strong indicator that at some point after the Warriors destroyed the Cavaliers on Monday, owner Dan Gilbert pulled the "I'm not paying for this team to get blown out by other great teams" card. And it's a valid one, but notable that Griffin mentioned it twice in the same presser. It's one thing to struggle vs. expectations, it's another to do so and cost your owner a huge amount of money. 
6. 'We respond really well to a measure of chaos.'
That was a weird quote from Griffin, as he talked about the mental makeup of the team. "This team is not galvanized after wins," Griffin said. "When we're really galvanized is when we're told we can't win, and then we do." That's a spot-on observation about the front-running Cavaliers, who have often come out with lackluster starts which seem to be prompted by a confidence in their ability to out-talent the opponent. James has commented on this several times, and his irritation at the team's mindset has been a major source of concern. Still, the idea that the Cavaliers are better when things are chaotic is about the most Cavaliers thing anyone has ever said. It's also wrong. Stability and continuity are what help you win games, not uncertainty and instability. 
7. 'I feel like we won't miss a whole lot, but we'll gain a lot in areas that are critical to us.'
Griffin flat out blasted Blatt on several occasions without using his name, that quote being one of them. Griffin also said, "When you have the clarity of purpose that we have as a franchise, these decisions make themselves," which was pretty damning. It was clear that Griffin did not have much doubt that this move was the one to make, even as he said repeatedly that the decision was his alone, and that it was only made Friday. 
Either way you fall on the question of whether Blatt should have been fired, Griffin felt very clearly that Blatt not only wasn't doing enough, but was simply not a factor in the team's success. That's incredibly damning. 
8. 'To a huge degree I'm doing this because I believe in that team, maybe more than they believe in themselves.'
This gets back to the mindset thing, which was clearly a huge factor for Griffin. You can talk X's and O's and rotations, but if the team doesn't have the right mindset to compete night after night, you're going to feel like a change has to be made. That's what the Cavs did.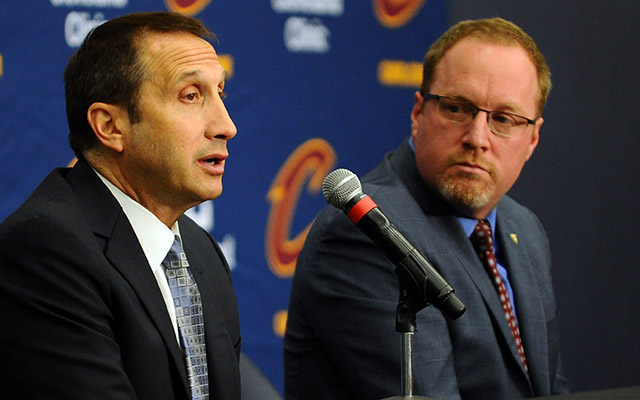 Show Comments
Hide Comments
Our Latest Stories
The center says he's not exactly asking to be traded, but something must be done

The center signed a max contract in July

The storylines, they are a plenty.
This seems a little extreme, no?

The Pistons coach is pushing his players to register to vote

The Thunder center used to say 'No English' whenever the future Hall of Famer came around