Cavs' Kyrie Irving out Saturday against Nets, won't travel with team
Cleveland Cavaliers' point guard Kyrie Irving will not travel to Brooklyn with the team and is out Saturday against the Nets.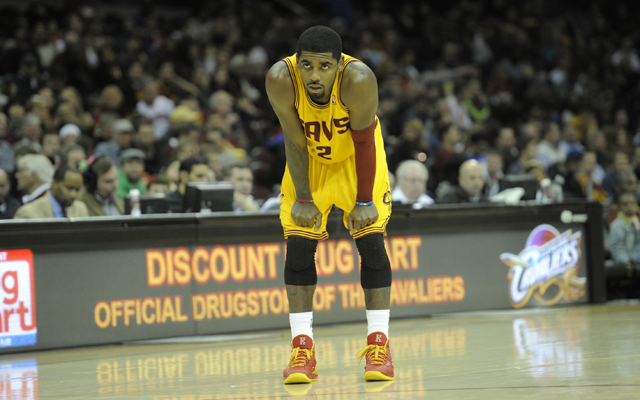 Cleveland Cavaliers' point guard Kyrie Irving injured his left knee during Tuesday's loss to the Indiana Pacers. Irving was pushing the ball in transition and attempted to go around George Hill for a layup on the left side. As he was gathering his steps, he lost his balance and seemed to have his knee give way in a manner that caused him a considerable amount of pain. He returned to the game but was given an MRI the next day and listed as day-to-day.
Irving's knee is not good enough to play Saturday against the Brooklyn Nets and he will not even travel with the team to Brooklyn.
#Cavs Kyrie Irving will not travel to Brooklyn for Saturday's game. Status for Sunday vs ORL undetermined

— M.S. Boyer/J. Valade (@PDcavsinsider) January 3, 2014
The Nets and Cavaliers are both 11-21 on the season and hopeful they can still make the playoffs. This will be the second game of the season Irving has missed after missing 38 games the previous two seasons. The Cavs return to Cleveland after their game against the Nets to face the Indiana Pacers again on Sunday. 
It's unknown whether or not Irving will be available for Sunday's game.
Show Comments
Hide Comments
The commissioner's infamous veto of the Paul trade could have been different

Warriors are intent on keeping a mind like Jerry West around

LaVar has always been proud of his son, which Magic says isn't a problem as long as it doesn't...
Curry was cookin' on the pan and stole the show when she took over the mic

Shaq says LeBron isn't comparable to any one legend, rather a mixture of several greats

Kevin Love says the Cavaliers are on the same level as the Warriors: 'We match up well'