Cavs reach agreement in principle with Mike Brown
Mike Brown has a handshake agreement to return as coach of the Cleveland Cavaliers next season.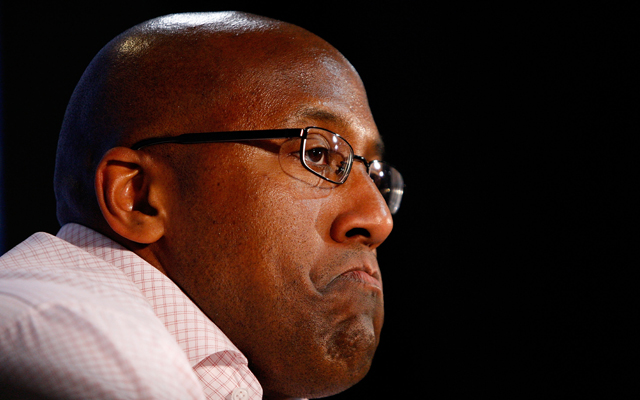 He's coming back, Cleveland!
Mike Brown, I mean. Who did you think I meant?
According to the Akron Beacon Journal, Brown has a handshake agreement with the Cavaliers to return as their head coach next season. Ken Berger of CBSSports.com reports the Cavs have a deal in principle with Brown.
Berger cautions this, though: "One aspect of talks between Mike Brown and the Cavs is offset with the Lakers, who owed him $11 million when they fired him, source says." The deal is not officially done, and there are some contract hurdles to get over before anything goes final.
The Cavs' head coach position came open after Byron Scott was fired after three unsuccessful seasons in Cleveland, where he followed Brown, who had five very successful seasons. The difference between the Scott and Brown eras? One had LeBron James, one didn't.
Brown was hired by the Lakers as their head coach in 2011 but was fired just five games into this season. According to the Plain Dealer, Brown and his family had moved back to Cleveland recently, prior to the Cavs job becoming available.
Cavs general manager Chris Grant laid out what kind of candidate the team is looking for on Thursday during a press conference.
"Moving forward, we'll look for someone with proven success and look for somebody who is strong defensively with proven systems," Grant told reporters. "We'll look for somebody who is a teacher. We'll look for somebody who is a grinder and a worker."
The Cavs were plain awful defensively under Scott, ranking in the bottom five in defensive efficiency all three seasons. Brown is known as an excellent defensive coach, and always had his teams in the top 10 in defense, often in the top three.
James was recently asked about the potential of Brown returning to Cleveland and responded, via the Associated Press, by saying the possibility "should be real." Obviously relevant, because James could opt out and be a free agent in 2014, with a return to Cleveland becoming a rumored possibility. Though the thinking behind Brown's firing by the Cavs was that it was an effort to please James and persuade him to stay.
Brown spent five seasons coaching James in Cleveland, compiling a record of 272-138. He guided the Cavs to the NBA Finals in 2007, but the Spurs swept them. He was named Coach of the Year in 2009 after the Cavs went 66-16.
Show Comments
Hide Comments
Toronto can build on what it has started by going all-in on versatility and spacing

The Warriors came out on fire in Game 4
How to watch the first-round series between Washington and Atlanta

How to watch the first-round series between the Raptors and Bucks

Green heckled Harkless over his reluctance to take 3-pointers