Celtics-Nets Trade: Is Brooklyn a title contender with Garnett, Pierce?
Examining the title aspirations of the new Brooklyn Nets with Kevin Garnett and Paul Pierce.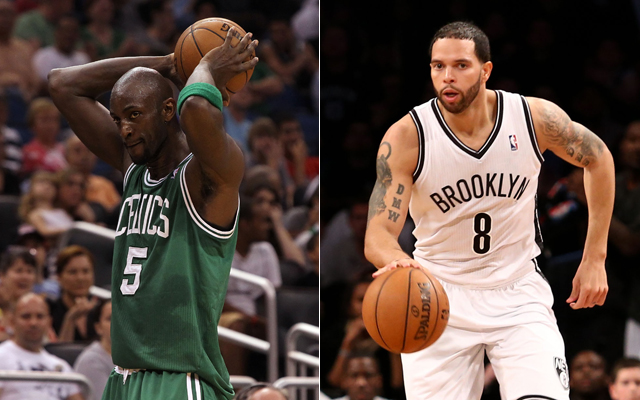 Thursday night, the Nets did what the Nets do. They spent money and assets to try to skip steps on their way to a title. Their identity since moving to Brooklyn has been about leveraging the future and detonating financial restraint in an attempt to try to leap into big success. Trading for Joe Johnson. Re-signing Deron Williams and Brook Lopez. Signing Gerald Wallace and Andray Blatche.
And Thursday, they traded Gerald Wallace, Reggie Evans, Kris Humphries and three first round picks for Kevin Garnett, Paul Pierce and Jason Terry.
The Big 3 Era is over in Boston, and the Nets' latest push for title contention is on.
So now that the dust is settling over the latest NBA blockbuster, and as the Nets start printing up what I can only imagine is an incredible series of marketing materials based around the addition of KG and Pierce, we can ask the question.
Does this move really make the Nets a title contender?
Immediate talent vs. immediate age
Kevin Garnett is not the player he once was. Paul Pierce is a shell of the player he once was. But both represent considerable upgrades over the players they're replacing. Gerald Wallace was a better defender than Pierce is now, but Pierce is still able to produce points as a primary ball-handler much better than Wallace, and with the attention drawn by Deron Williams could really thrive in limited opportunities.
The Nets started Reggie Evans and Kris Humphries at power forward this year, so yeah, Kevin Garnett, a top-five all-time power forward, is kind of an upgrade.
But don't overlook how much both players slipped this year and how much they will continue to slip. Boston fans pointed to the Celtics' outrageous defensive plus/minus increase when Garnett was on the floor, but all that really showed was a strong defensive system on a team with terrible bench talent. Garnett was still a great defender, but his ability to make the little plays that once made him elite have eroded.
Likewise, Pierce has stretches where he looks like the Captain of old. But his handle is more vulnerable, his moves more predictable, his offense more solvable. This deal makes them better, but it's not adding guys in their prime.
They got better, but they didn't get "wow" better, despite the names.
Fixing an area of weakness
The Nets' biggest area of weakness last season was defense. They were 17th in defensive efficiency and could not contain teams with consistent attacks. Garnett immediately helps with that problem. Pierce is no longer a great defender, but he can act as a positive. The basic result is that Garnett and Pierce collectively improve the team defense more than Wallace and Humphries or Evans.
Garnett also helps Brook Lopez to rebound more effectively, which is a big issue after they lose Reggie Evans.
Now, much of this will come down to Jason Kidd's defensive system, and how he builds a definitive style, and then gets the rest of the Nets to commit to it.
Stylistic fit
So how do these guys go together? Deron Williams will love having Garnett in the pick and pop, and Pierce with the trailer three. It'll take the burden off of Williams as primarily ball-handler 100 percent of the time. Williams had an up-and-down season last year, and this could really help get him engaged to the level he needs to be for the Nets to contend.
Garnett and Lopez could be very effective in a high-low passing combination. Lopez has great touch and KG great vision. If Garnett learns to trust him, that could become a problem for teams in the East.
Where Johnson fits in this equation is tough.
He operates closely in the same vein as Pierce, creating with the ball on the wing. Can he become just a spot-up shooter? Can he adjust to playing even more off-ball? Johnson started off strongly off-ball, then went more and more "iso" as the season wore on. Can he give up those tendencies? And will he and the former Celtics clash after years where he battled the Celtics in Atlanta?
The verdict
So are the Nets title contenders? No. They can get there, but it will take a better Deron Williams than we saw last year, a better Joe Johnson than last year, a Brook Lopez who isn't shoved to the background by the veterans, and a throwback year from Pierce and Garnett.
The Nets have thrown out the money bags and landed the big fish, made a big splash for the second year in a row. But they have a lot of work to do if they want to legitimately challenge Miami, or even Indiana in the East. This isn't your older brother's KG and Pierce. They're good additions, not franchise-changers.
Otherwise they'd still be in Boston.
Show Comments
Hide Comments
Breaking down key matchups as the second season reaches the conference semifinal series

The second round of the 2017 NBA Playoffs tips off Sunday at 1 p.m. ET, with Game 1 of Cel...

The Spurs have homecourt advantage, and will host Game 1 Monday night at 9:30 p.m. ET
All-Star guard flew to Washington after Game 6 vs. Bulls to attend his sister's funeral Sa...

Some love for the Rockets over the Spurs, and at least one expert says the Cavs are going...

Ball is expected to be one of the top picks in the NBA Draft later this summer