Celtics president Danny Ainge isn't panicking at all
Danny Ainge wants to give the Celtics more time and isn't looking at making major moves.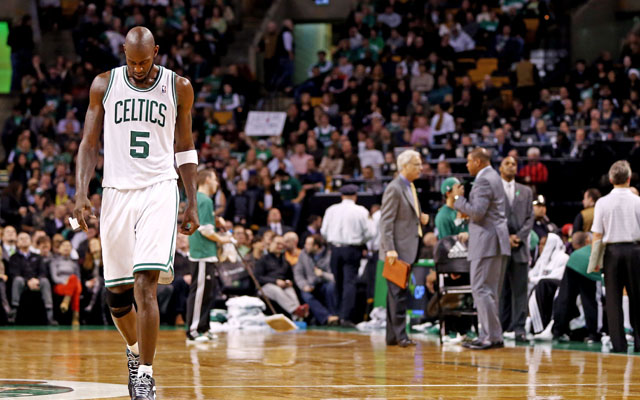 The Celtics can't seem to figure it out this year.
(Getty Images)
People are getting restless.
The Boston Celtics are 13-13, .500 only after losing at home to the Bucks Friday night. They entered Friday night 13th in offensive efficiency (points per 100 possessions), 11th in defensive efficiency and 16th in net efficiency.
The Celtics are, by any and all measure, a completely mediocre basketball team.
This was not what was envisioned when the team came together last summer for one more run with the Big 3 (minus Ray Allen plus Rajon Rondo).The addition of Jason Terry was supposed to be an upgrade over Allen but hasn't been. Jeff Green was supposed to be a difference maker but hasn't been. Jared Sullinger was suppose to impress; he has impressed, but not to the degree they needed.
You're seeing local media and bloggers start to take note: it's no longer early, and the Celtics are not just working out the kinks. They've been bad, compared to expectations.
So is this unacceptable to the president of basketball operations, Danny Ainge? Is he contemplating major moves to not waste the amount of payroll and expectations on this team's shoulders? Are major changes afoot?
Nope. Not at all. "Be cool, man," is basically his attitude. From the Boston Herald: 
"I think that every year I feel like we're constantly evaluating our team, but the danger comes when you feel like you need to do something," he said. "That's just talk. What we need to do is progress.

"We don't need to make a change. We need to get better. So between the players and the coaches and the management, we're all working together to try to figure out how to get better."

Asked if he is confident that the roster he has assembled still can be successful,  Ainge paused and said, "I'm uncertain. I want to see more.

"I want to see more before I know. I've been uncertain the last few years, and they give me a lot of reason to be uncertain. But then they turn around and show what they're made of and what they have inside of them. So I want to give it more time."
The "last year" hypothesis is incredible popular, along with the "2010" hypothesis. They both state this is what the Celtics do. They struggle to start a year, look like they're done, then get it together and wind up going deep in the playoffs. It's a fairly solid idea, backed by their success last season, when they struggled early and then boomed into the Eastern Conference Finals, losing only because LeBron James went nova.
In 2009-10, they similarly looked terrible to start, and really to end the year, then wound up making the Finals on the backs of one of the most surprising playoff runs in recent history.
One small problem: the defense.
In 2011-12, through 23 games, the Celtics had the second-best defense in the league, averaging 94.5 points per 100 possessions. In 2010-11, they surrendered just 95.5 points per 100 possessions, good for first through 23 games. In 2012-13, they've given up 101.5, good for just 11th.
The offense has been good, better than it was to start last season, but this team has and will always rely on its defense. It uses a grind-it-out style that's specifically tailored for the playoffs. Without that, they're just not bringing enough firepower offensively to the table.
Can a team with so many new parts, young players, and aging veterans on the downside get it together? Can it recover what it needs to in order to make a run? Ainge thinks so, he and Doc Rivers believe. And you can't bury this team until the heartbeat's flat-lined. But when you look for signs of hope, it pretty much all rests with Avery Bradley, a third-year undersized shooting guard coming back from major surgery.
That's where we're at with the Celtics.
(This entire post will look hilarious in April when they walk into the playoffs as the third seed or something.)
Don't even think about it -- LeBron's reportedly not going anywhere

The point guard's unhappiness reportedly helped lead to his eventual trade request

Even Floyd Mayweather weighs in on the war of words between the two stars
The three-team deal would have also shipped Kevin Love to Denver

Ball wasn't happy about a foul call, swore at a referee and took his team off the floor

Jared Sullinger wants back in the NBA; he knows his weight will play an important part