Charlotte Bobcats hire St. John's assistant Mike Dunlap as coach
The Charlotte Bobcats have reportedly eliminated Indiana Pacers assistant coach Brian Shaw and Los Angeles Lakers assistant coach Quin Snyder as candidates for their head coaching position.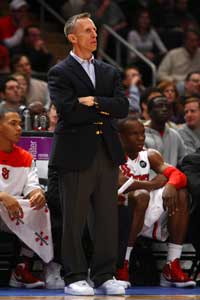 Mike Dunlap is the new coach of the Charlotte Bobcats.
(Getty Images)
The Charlotte Bobcats reportedly have a new coach, and he wasn't even one of their three finalists.
The Charlotte Observer reports that the Bobcats have hired St. John's assistant coach Mike Dunlap to replace former coach Paul Silas, who was let go by the Bobcats back in April. 
CBSSports.com's Jeff Goodman has confirmed the hiring and provides some background on Dunlap.
Dunlap is considered one of the brightest minds in basketball. Period. It appeared as though he committed career suicide a few years ago when he turned down the opportunity to become the interim coach at Arizona following Lute Olson's health issues. Russ Pennell took the interim tag, but it was Dunlap who assumed most of the actual on-court coaching duties.

Dunlap is a proven head coach from his days at Division II Metro State, where he won a pair of national titles. He was also an assistant for two seasons in the NBA with the Denver Nuggets. Talk to just about anyone in the business -- and they rave about Dunlap's knowledge of the game and his ability to convey that knowledge to young players.

Most recently, Dunlap was an assistant under Steve Lavin at St. John's -- where he filled in as the head coach while Lavin was recuperating from cancer.
Dunlap, 54, was an assistant with the Nuggets from 2006 to 2008.
Last week, the Bobcats reportedly narrowed their coaching search down to three candidates: former Utah Jazz coach Jerry Sloan, Indiana Pacers assistant coach Brian Shaw and Los Angeles Lakers coach Quin Snyder. Shortly thereafter, Sloan announced that he was pulling his hat out of the ring.
Then, on Monday, multiple reports (here and here) indicated that the Bobcats had informed Shaw that he was no longer a candidate. Minutes later, Yahoo Sports reported that Snyder was "out of the running" as well.
The Bobcats parted ways with Silas back in April after finishing 7-59 during the 2011-2012 season, posting the worst record in the NBA and the worst winning percentage (.106) in NBA history. Charlotte missed out on winning the 2012 NBA Draft Lottery, which would have given them the opportunity to draft Kentucky big man Anthony Davis. Instead, the Bobcats hold the No. 2 selection.
Show Comments
Hide Comments
Series prices show Dubs light years ahead

Green responded that he's 'the modern day Draymond Green'

Our experts predict whether the Jazz can compete with Golden State, along with the rest of...
Breaking down key matchups as the second season reaches the conference semifinal series

Pierce's 19-season run in the NBA ended Sunday as the Clippers bowed out of the playoffs

Utah overcame its relative lack of experience with a balanced, deep and versatile roster