Chris Bosh on when Dwyane Wade plays well: 'We're unstoppable'
Chris Bosh isn't sugarcoating it: When Dwyane Wade plays great, the Heat aren't stoppable. They're unstoppable, in fact.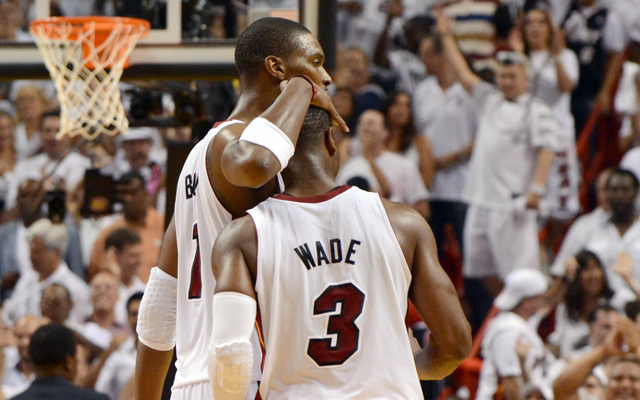 SAN ANTONIO -- How good can the Miami Heat be when the Dwyane Wade that dropped 32 points in Game 4 shows up?
"I think we're unstoppable," Chris Bosh said at Saturday's practice. "When Dwyane plays like that everybody for one, feeds off it. His charisma out there, just the way he was moving, it was inspiring basketball. Not so much the way he was scoring, but the defense he played, the leadership he played, it was phenomenal."
Wade was so spectacular that he has everyone -- including LeBron James -- calling back on 2006 when he was dubbed "Flash." It was a dominant, overwhelming performance by Wade. It was his first 30-point game since March 4, but he added to that great defense (six steals) and active work on the boards. 
"My team needed a better performance out of me," Wade said. "And mentally I had to change my mind."
The Heat were constructed with the blueprint of their three best players -- James, Bosh and Wade, duh -- carrying the bulk of the burden. Because of matchups, health, age and whatever else, the Heat seemed to be less of a Big 3 in this postseason and more of a Big 1 with LeBron doing it all. Bosh and Wade have had their moments, but there wasn't that terrifying switch where all three click at the same time. 
"That's what we envisioned," Wade said. "It's not easy to do that every night, but hopefully with three games left, hopefully we can be more consistent." 
When that happens, the Heat go to new levels, like they did in Game 4 where those three combined for 77 points. 
"I have no idea," LeBron said when asked why the trio hasn't been able to be consistent. "We would love to do what we did last game every game. But every game is different. Every game presents different challenges.  We haven't been able to string games like that for the Big Three in this postseason. But we're still here. We're still in a position to win an NBA championship, and that's what's most important."
Lost in Wade's terrific performance, though, is that Bosh played maybe his best game of the postseason too. He had 20 points, 13 rebounds and two blocks, and more than anything, imposed himself on the game. He was aggressive, assertive and very strong on the interior. 
"It was OK. It was alright," Bosh said of his performance. "I don't get too bent over. I have to do more."
Asked what happens when he maintains his aggressiveness for 48 minutes, Bosh didn't hold back. 
"We win," he said. "Like 99 percent of the time. That's encouraging."
So... why not be aggressive all the time if it's just that simple?
"That's a good question, isn't it?" he said. "My family asks me that all the time. 'Why don't you do this?' It's not that easy, OK.
"My cousins, my uncles, my aunts. Everybody," Bosh sad. "My family's rough, man. Y'all don't understand. My wife asks me the same thing. 'Why aren't you...' gah lee, I tell her I just got done doing media, man. Leave me alone. Nah, but they push me. They always push me. Just like everything else, they're looking for more and they want me to be successful along with this team."
To recap: If Wade plays well and Bosh stays aggressive, the Heat are unstoppable and will win 99 percent of the time. So if I was to suggest a game-plan for Erik Spoelstra and the Heat, it would be 1) have Wade play great; 2) keep Bosh aggressive and 3) championship. 
That simple, you guys.
The 24-year-old swingman will become an unrestricted free agent

The youngster hit Oladipo with a nutmeg during a one-on-one game at Oladipo's camp

The Cavs will be looking to upgrade their squad after their Finals loss to the stacked War...
Denver is reportedly also in talks on a three-team trade that would send them Kevin Love

Barclays Center hosted the BIG3's inaugural slate of games on Sunday, with The Answer as a...

Pierce was drafted 10th overall by the Celtics in the 1998 NBA Draft