Chris Paul agrees to deal with Clippers for $107 million
The Los Angeles Clippers came to terms with Chris Paul on a contract extension that is five years and $107 million.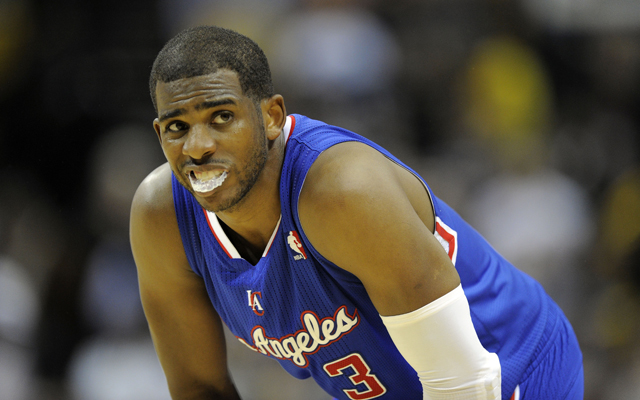 Update Monday 11:30 a.m. ET: 
Apparently Chris Paul agreed to his deal with the Clippers Monday, based off this tweet he sent. 
I'M IN!!! #CLIPPERNATION

— Chris Paul (@CP3) July 1, 2013
Ken Berger reports the deal has an opt out after the fourth year, making him a free agent in 2017. Paul's agent Leon Rose confirmed the deal.
---
The Los Angeles Clippers have been a legitimate team since trading for Chris Paul in 2011. They went from being a joke around the NBA for decades to being one of the most relevant teams in the NBA. While they haven't quite contended for a championship yet, having the best point guard in the NBA essentially directing your organization is something a lot of teams would spend a lot of money to have.
Unfortunately for the other 29 teams in the NBA, it doesn't look like they'll have that chance to spend money on Chris Paul. ESPN Los Angeles' Ramona Shelbourne is reporting that as soon as the clock strikes 12:01 a.m. ET, Chris Paul and the Los Angeles Clippers are going to agree to a contract extension of $107 million over five years.
Chris Paul is expected to verbally agree to a five-year, $107 million contract extension with the Los Angeles Clippers shortly after the team is able to officially offer it to him, beginning at 12:01 a.m. ET Monday morning, sources have told ESPN.
This is a no-brainer for the Clippers and quickly drops a big domino in the free agency madness that is going to happen over the next couple of weeks. Sure, we still have Dwight Howard, who will probably try to suck every bit of media attention out of this situation, but at least Chris Paul has moved his offseason along quickly. Now the Clippers can move on to either trying to bring in a third star to join Chris Paul and Blake Griffin, or they can focus on filling out the roster with role players.
The Clippers currently have Matt Barnes, Chauncey Billups, Ryan Hollins, Lamar Odom, and Ronny Turiaf as free agents from last year's roster. Matt Barnes is expected to be in demand for teams looking to add key wing role players.
Show Comments
Hide Comments
Thunder fans used the term 'cupcake' in reference to Durant after he left OKC in free agen...

There appeared to be some wishful thinking on the part of Charlotte general manager Rich C...

Thompson is one of the best shooters in the league, but it appears dunking isn't his speci...
Cuban was willing to part ways with employees who leaked ahead of the official announcemen...

Draymond wasn't mad about the move, though. He was mad about the way he heard about it

All-Star forward was sent from the Bulls to the Timberwolves on draft night