Chris Paul puts pressure on Blake Griffin to stay on the court in Game 2
After Clippers forward plays just 19 minutes with foul trouble in Game 1, point guard says he must stay on the floor in the series vs. Warriors.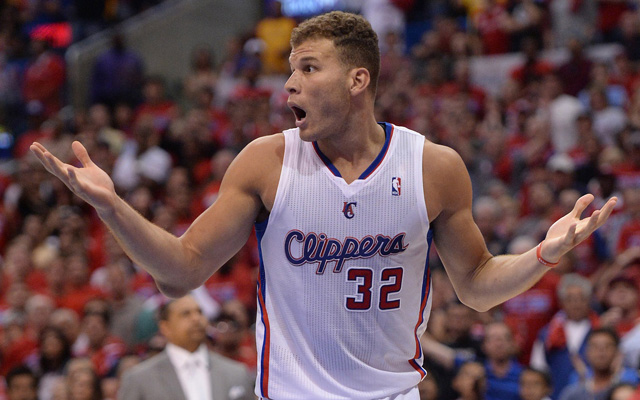 More postseason coverage: Playoff schedule, results | Latest news, notes
After the Clippers' loss to the Warriors Saturday, Clippers point guard Chris Paul told reporters that the Clippers need Blake Griffin on the court and that Griffin can't afford to get into foul trouble like he did in Game 1.
Griffin picked up three fouls early, and fouled out on a weak reach-in call midway through the fourth in the Clippers' loss to the Warriors. From BleacherReport.com:
"It was tough; it was huge," Paul soon said about Griffin's limited presence, which included fouling out with 48 seconds left in a tie game. "Blake is our go-to guy, contrary to what people might think. We play through BG. As you can see, he's tough to guard. When he only plays 19 minutes, that's tough."

Paul was telling Griffin during the game: "I need you. I need you." He was unabashed in admitting his own energy was draining from being the primary defender in the Clippers' traps against Stephen Curry. Meanwhile, every basketball junkie watching the other end could see how the Warriors' traps led by rangy Klay Thompson were making it hard for Paul to attack, one reason Paul wound up hitting five of nine three-point shots in his 28-point game. But Paul certainly didn't close well either.

"We need 32, though," said Paul, referring to Griffin's number and adding the adverb to show he was indeed introducing the different topic all on his own. "It's no secret. We need BG."

"The series we played last year and the year before that were way, way, way more physical," Griffin said. "So it's kind of hard to know what you can get away with and what you can't. But like I said, I have to be smarter in that area and not put us in that situation."
via Chris Paul Stresses Clippers' Need for Blake Griffin After Loss to Warriors | Bleacher Report.
As we told you in Court Vision, the on/off numbers for Griffin in Game 1 were ballistic. The Clippers were 48 points better per 100 possessions with Griffin on the court, a plus-9 in simple plus/minus in his 19 minutes. It's too simplistic to say Griffin's absence was the difference in the game ... well, OK probably not. It kind of was the difference in the game.
It's a little weird that Paul is effectively calling him out, though. Griffin couldn't control the officials Saturday, who were all over both sides (Andre Iguodala also was in massive foul trouble the entire day). The forces of nature couldn't control the officials that day. You want Griffin aggressive. The alternative is much worse.
The adjustment from the super-physical series vs. the Grizzlies to the whistlefest that was Game 1 vs. the Warriors will take some getting used to, but it could also help Griffin. If he's careful and precise, he could have a monster series if he can adjust. If he can't, that could swing the series to the underdogs.
Show Comments
Hide Comments
Wall threw down a similarly impressive dunk earlier in the series

LeBron played just under 44 minutes per game in the first round against the Pacers

Markelle Fultz is No. 1, followed by Kansas' Josh Jackson and there are some new names in the...
Leslie Alexander made his way onto the floor to complain about a call

The series shifts back to Washington for a pivotal Game 5

The Celtics and Bulls meet in Boston for a pivotal Game 5