City of Charlotte to spend $33.5 million on improving Hornets' arena
The city is prepared to spend $27.5 million to improve Time Warner Cable arena now, and $600,000 annually for maintenance for the next decade.
• 1 min read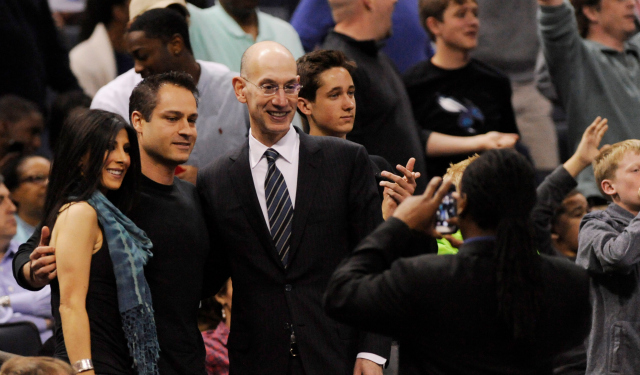 The city of Charlotte is investing more money into the Charlotte Hornets' home, Time Warner Cable arena, via the Charlotte Observer's Steve Harrison.
The city of Charlotte is prepared to spend $27.5 million in capital improvements for Time Warner Cable Arena, as well as 10 years worth of annual payments of $600,000 for ongoing maintenance.

The Charlotte Hornets and the Charlotte Regional Visitors Authority asked the city earlier this year for nearly $48 million in arena improvements, many of which the city and the team said are part of a 2003 operating agreement that requires the 9-year-old building to be among the National Basketball Association's most modern.

…

The city's proposal calls for the team to receive money for restaurant renovations, bathroom improvements, new lighting, visitor locker room upgrades, moving the ticket office and scoreboard improvements. The team would also replace a number of "tabletop" seats in its lower bowl with traditional seats, which would increase capacity by about 600 seats.
The city already paid for and owns the arena, and it is required to pay for a certain amount of maintenance and upgrades. The team and city leaders announced earlier this month that they had put in a bit for the 2017 and 2018 All-Star Games, and NBA commissioner Adam Silver has said that an improved arena would help Charlotte's chances to land one of them. There are plans for a new scoreboard to be installed by the 2017-2018 season, according to the Charlotte Observer.
This is more good news for NBA basketball in Charlotte to go along with the return of the beloved name and the improving on-court product. That's not to say that all taxpayers agree with spending this much, but the Hornets and the league should be happy.
Show Comments
Hide Comments
Our Latest Stories
Booker had a prolific, but unusual, scoring night

Boston's All-Star guard: 'It's weird what they were doing'

The second-year Suns guard got a lot of love on social media
Second-year guard's franchise record includes 51 in the second half, 28 in the fourth quar...

Former Laker greats, including Kobe Bryant, speak at ceremony

Who faces who, who's in, who's out, and what happens next?