Cleveland Cavaliers fire coach Byron Scott after three seasons
The Cleveland Cavaliers have fired coach Byron Scott after his third straight losing season with the franchise.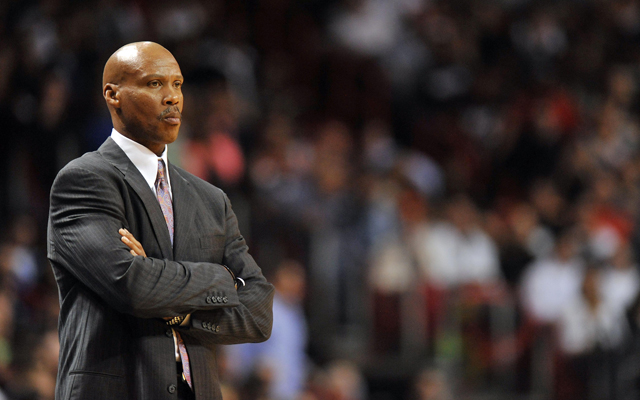 When LeBron James made his decision and left the Cleveland Cavaliers, everybody expected the rebuilding process to be a long and arduous process for the franchise. Well, almost everybody. They hired Byron Scott, lost a lot of games, ended up with the No. 1 pick in the 2011 draft and made four first-round picks in the 2011 and 2012 drafts. 
They ended up with a franchise player to build around in Kyrie Irving and decided to go cut cap space, stockpile draft picks and take a slow rebuilding process to get back to the title contenders that they used to be. That process apparently no longer requires the services of coach Byron Scott. The team announced Thursday that they've released Scott from coaching the team:
The Cleveland Cavaliers have released Head Coach Byron Scott, the team announced today from Cleveland Clinic Courts. The announcement was made by Cavaliers General Manager Chris Grant.

"I have tremendous respect for Byron professionally and a great deal of admiration for him personally. At the same time, it is critical for where we are as a team to ensure that we capitalize on every opportunity for development and success and we have fallen short of that on the court," said Grant. "I believe we needed to make this change in order to get to a better position to achieve our goals. I know I speak on behalf of the entire Cavs organization and the Cleveland community, in thanking Byron for his three years here and his hard work and many contributions on and off the court. We wish Byron and his wife, Anita, the best."
During his three seasons with the Cavs, Scott's teams compiled a record of 64-166 (27.8 winning percentage) and had one of the worst net differentials in the NBA in all three seasons. Earlier in April, many fans and media members believed Scott was on his way out with the organization when Irving wouldn't comment on his coach's employment situation. The Cavs' point guard said he just wanted to concentrate on finishing out the season with his coach. 
Without the team's franchise player publicly backing the coach, it looked like a sign that Scott wouldn't be returning next season. Irving has often been a proponent for Byron and credited him with helping him develop into the player whom he has become during his short career, but that apparently wasn't enough to keep his coach around the team. 
A big reason the Cavs might not have felt progress was being made is because of the team's lack of improved defensive production. For three straight seasons under Scott, Cleveland has finished 26th or worse in the NBA in defensive rating (points per 100 possessions given up). Even though the team has had multiple injuries and asked young players to step in and play as veterans, you would have liked to have seen some improvement when it comes to the team's defensive capabilities. 
Instead, the losing and the lack of progression ended up contributing to Byron Scott losing his job with the organization.
Show Comments
Hide Comments
Westbrook noticed something the players all had in common

The reserve guard has missed the last 11 games for the Clippers

Sounds like the Knicks need to figure out what's going on with their star forward
The future Hall of Famer opened up about his post-NBA life

Boston's star guard addressed the media for the first time since his sister's death

What does a first-round sweep mean for PG13's future in Indiana?