Clippers, Doc Rivers agree to contract extension
The Los Angeles Clippers and president/coach Doc Rivers have agreed to a contract extension that will keep him through 2018-19.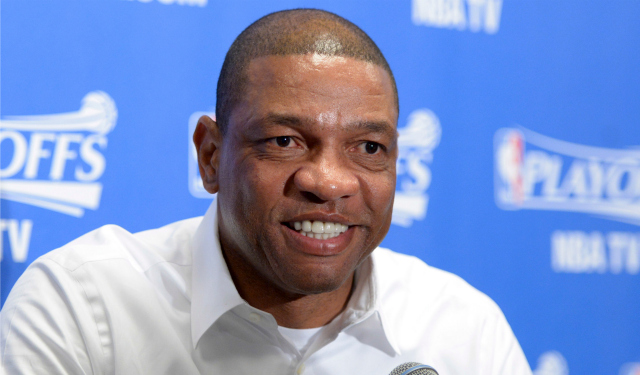 UPDATE: The extension is for five years and more than $50 million, according to Yahoo Sports' Adrian Wojnarowski.
---
After all of the drama and uncertainty surrounding Donald Sterling and the future of the Los Angeles Clippers, Steve Ballmer is now officially the owner and the organization can concentrate on basketball. Part of that concentration on basketball is making sure they have a leader on the sidelines and off the court as they attempt to build toward a championship. Especially during all of the Sterling mess, president of basketball operations and coach Doc Rivers showed how valuable he is as a leader.
The Clippers announced on Wednesday that Rivers will be that leader for even longer than originally expected. Rivers and Ballmer agreed to a contract extension that will keep him around through at least the 2018-19 season. Ballmer called it one of his "top priorities" to make sure Rivers was in place as the long-term leader of the Clippers. From the team:
The Los Angeles Clippers today announced that President of Basketball Operations and Head Coach Doc Rivers has agreed to a contract that will keep him with the team through the end of the 2019 season. Terms of the deal were not disclosed.

"This is an important day for this organization," Clippers owner Steve Ballmer said. "I am excited to work with Doc for a long time as we build a championship culture that will deliver results both on and off the court. Not only is Doc one of the best coaches and executives in the game, but he continually embodies the hard core, committed and resilient character and winning culture that the Clippers represent. It was one of my top priorities to ensure that he was firmly in place as the long-term leader of this team."
The Clippers traded their 2015 first round pick to the Boston Celtics in exchange for Rivers to become part of the Clippers' organization last summer. Rivers took over as the coach and team president, helping the Clippers win 57 games and get to the second round of the playoffs before losing to the Thunder. It was the most wins in Clippers' franchise history, which isn't exactly the richest history on the court. Rivers kept the team together during the Sterling scandal and helped them persevere through the first round before losing in the next.
It was the seventh straight winning season Rivers has coached. The previous six came with the Celtics, including a championship in 2007-08. He has a career record of 644-498 in the regular season and 70-64 in the postseason. 
Show Comments
Hide Comments
Game 1 of the 2017 NBA Finals tips on June 1

LeBron reflects on emulating Michael Jordan growing up, but one thing he couldn't quite co...

Check back here for all of the conference finals results from the NBA playoffs
The Cavs clinched the series by winning Game 5 by 33 points in Boston

'I wear the number because of Mike'

Our experts predict every series in the 2017 NBA playoffs