Clippers G Chris Paul medically cleared after thumb surgery
Los Angeles Clippers guard Chris Paul has been medically cleared following offseason thumb surgery.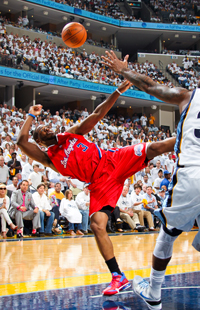 Chris Paul is good to go after thumb surgery.
(Getty Images)
CP3 GTG. As in, good to go.
The Los Angeles Clippers announced Monday that All-Star guard Chris Paul has been officially cleared for full-contact practices following offseason surgery on his right thumb.
Paul, 27, underwent surgery in August after completing a gold medal run with USA Basketball at the 2012 London Olympics. His recovery timeline was initially placed at eight weeks, meaning that he is returning to full action slightly ahead of schedule.
Paul wore a bandage over his thumb during the Olympics but the injury didn't really slow him, as he averaged 8.3 points, 5.1 assists and 2.5 steals per game, providing a number of crucial plays down as a primary ball-handler down the stretch. 
The Clippers, of course, will welcome his return, as Paul's arrival from the New Orleans Hornets in a December blockbuster trade was the catalyst that pushed the Clippers to the postseason for the first time in six years, where Los Angeles won just its second playoff series victory since the team relocated to California in 1978. Paul averaged 19.8 points, 9.1 assists, 3.6 rebounds and 2.5 assists per game for the Clippers in 2011-12 while being named to the All-NBA First Team.
The Clippers open their 2012-13 preseason in Beijing, China, against the Miami Heat on Thursday, Oct. 11. Their regular season opener is at home in the Staples Center against the Memphis Grizzlies on Oct. 31.
Shaquille O'Neal certainly knows how to bring attention to himself

Warriors, who are not leaning on taxpayers for the arena, plan to pay back the fee after 30...

In a documentary short, Redick explains part of the reason he left the Clippers for the 76...
The Cavs are reportedly nearing a deal with Rose, but the Lakers will try to persuade him to...

The former NBA All-Star launched a successful second career overseas

Tom Thibodeau confirmed locking up Wiggins is the next step for Minnesota after a busy sum...