Clippers-Grizzlies Game 3: How Memphis dragged CP3 into the mud
How the Grizzlies attacked Chris Paul in Game 3 to help win and cut the Clippers' series lead to 2-1.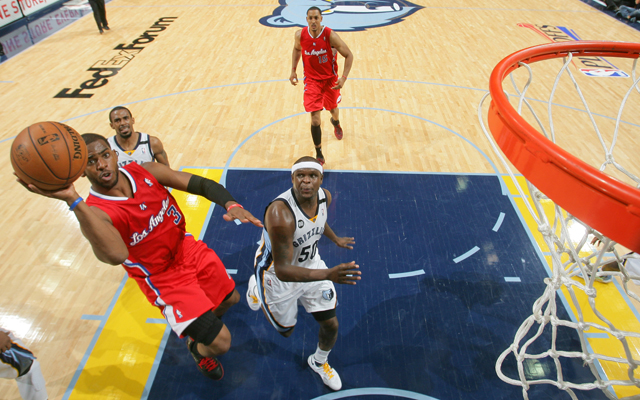 The biggest problem for the Memphis Grizzlies going into Game 3 was fairly simple. They could handle Jamal Crawford's ridiculous shots -- those won't always fall. They could adjust to the rebounding approach -- Memphis has some big guys, too. And they could find someone, anyone to step off the bench -- those players always play better at home. 
More on NBA playoffs
Related links
But Chris Paul, CP3, Point God, he was a much bigger problem. There was simply no way for Memphis to contain him in Games 1 and 2. They played back, he nailed jumpers. They played up, he got around and made plays. He was devastating. No matter what they got going their way in Game 3, they were still going to be fighting for their playoff lives if they didn't find a way to slow down Paul. 
And in Game 3, amazingly, they made him mortal. Paul was 4 of 11 from the field with four assists and five turnovers. They attacked Paul constantly, often with three defenders. In the pick and roll, they deployed larger and longer defenders, moving Mike Conley off-ball for long stretches and using Tony Allen and Quincy Pondexter. They moved in front of picks in anticipation, daring Paul to have someone else beat him. And they attacked him low to disrupt his dribble. Watch what happens on this play with Zach Randolph bringing help. Randolph is far from a great defender, but he attacks the angle, forces Paul too close to the pick and the result is a turnover. 
Part of it is the wear and tear on Paul throughout the game with the constant bodying, the constant attack, some of it's that Paul had a bad game. But using longer defenders has proven to be more effective. Part of it, though, is also getting used to Paul's rhythms and anticipating the passes. The Grizzlies were much better at their rotations. Paul works into the pick and roll and tries to swing to the wing. Tayshaun Prince jumps it. 
Now some of CP3's turnovers were just a weirdly bad game from him. He dribbled off his foot. He got caught for an offensive foul. He didn't have his shooting touch. Paul is certain to respond in Game 4, and that could be the one that slams the door on Memphis. But Memphis did legitimately find strategies Thursday night to at least disrupt Paul and force him to work. Defense is the cumulative effect of strategies on an opposing player. For at least one game, Memphis found that strategy Thursday. 
Their ability to replicate it will determine if the Grizzlies can even this series in Game 4. 
Allen Iverson is someone Tyronn Lue would want on his coaching staff

Guess who is still on the trading block for the Timberwolves

This is the first time the NBA has held an awards show
They haven't even played a game together yet

Chris Paul, Blake Griffin and Gordon Hayward lead the pack among stars who could be on the...

The 24-year-old swingman will become an unrestricted free agent