Clippers-Grizzlies Game 6: Paul, Griffin dealing with minor injuries
Chris Paul and Blake Griffin are both going to play in Game 6 but are dealing with minor injuries.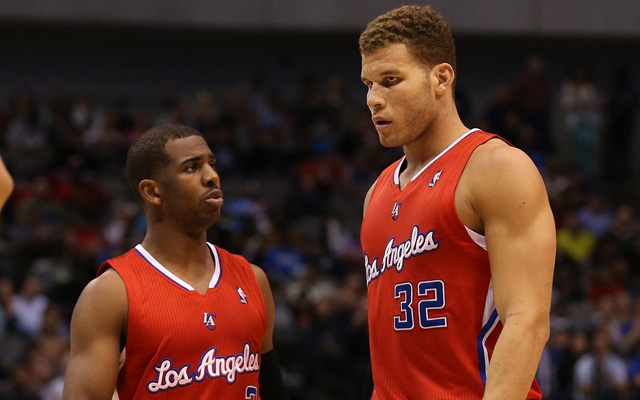 The Clippers beat the Grizzlies in the first round last year, but the cost was high. When the Clippers then had to face the Spurs, they were banged up -- with both Chris Paul and Blake Griffin dealing with injuries from the rough-and-tumble series. Now it appears the two stars are banged up, only this time they face a 3-2 deficit headed back to Memphis for Game 6. 
Chris Paul has a bruised left thumb but he will play in Game 6.

— Dan Woike (@DanWoikeSports) May 1, 2013
Blake Griffin is day-to-day and a game-time decision for Game 6. Do the Clippers even need press conferences anymore?

— Fred Katz (@FredKatz) May 1, 2013
Griffin was held to under 20 minutes in Game 5, while Paul shot 5 of 13 in the seconf half after sustaining the thumb injury. These are minor playoff boo-boos, but they add up in a series this physical. 
Griffin's ankle is obviously the bigger concern after he failed to return to Game 5. With Griffin's game so dependent on athleticism, having a bad wheel could limit him, taking away yet another facet of the Clippers' progressively wilting offense. 
The Grizzlies play a tough, physical style, and it's taking its toll on the Clippers for the second straight year. Even if they manage to force a Game 7 and win, will there be anything left of them for the semifinals?
Show Comments
Hide Comments
Toronto eliminated Milwaukee in Game 6 on Thursday

Surgery is to "repair core muscle-related injuries"

Somehow, the Celtics have become a significantly better defensive team with Thomas on the...
Will Iggy stay with Golden State? Does anyone have any idea what to do with Derrick Rose?

Hoiberg was asked about Isaiah Thomas possibly carrying the ball during Game 5

Celtics point guard does not need anyone to hype up his defense