Clippers, Pelicans among teams likely to make deal in active trade season
As the trade deadline approaches, here are five teams likely to make a deal.
The NBA trade deadline officially is Feb. 18, but in practice, the real deadline begins on draft night and lasts through July. Under the collective bargaining agreement enacted in 2011, that's when more and more big names have been moved.
In 2013, when the Nets swung (and, ultimately, missed) on the deal with Boston for Kevin Garnett and Paul Pierce , it was consummated in July. That summer, 13 trades were completed in July, compared to 11 in February.
The 2015 deadline was more active, with 13 trades in February compared to only nine the previous July. There's a trend, though, toward more financially motivated trades in February -- teams looking to duck under the luxury-tax line, clear future cap room with draft picks as incentive for their trade partners or absorb money into cap room as a way to acquire future picks.
What does 2016 have in store? The dynamics are ripe for a busy deadline, with more teams than usual incentivized to make a move. In the East, only 5 1/2 games separate eight teams between fourth (Miami) and 11th (Washington). In the West, where Golden State and San Antonio are running away, there's more incentive than there's been in years for teams in the bottom tier of the playoff picture to begin setting up their books for the big free-agent summers to come in 2016 and '17.
So with that, here are five teams that have been active in trade discussions and face a variety of motivations to pull off a deal at the deadline, in no particular order:

Boston Celtics
Few teams are as flush with future assets as the Celtics, particularly the Nets' unprotected first-round picks in 2016 and '18 (both of which figure to be in the high lottery). As constructed, the Celtics are gritty and competitive, but not close to elite -- and certainly, no match for Cleveland or Toronto in a playoff series. So as usual, Danny Ainge is waiting patiently for the opportunity to cash in those assets and/or some of his young players for a high-impact star.
The "trade Kevin Love" dynamic in Cleveland seems to have come and gone, and there have been no indications that the dysfunctional Kings have wavered in their reluctance to trade DeMarcus Cousins . Rudy Gay would help push Boston up a rung or two on the Eastern Conference ladder -- but not high enough to challenge the Cavs, and certainly not enough to warrant even a cursory discussion of those aforementioned prime picks.
Dwight Howard? Why give up assets for him now when you could have him as a free agent this summer -- if, that is, he even wants to be in Boston. If Ainge isn't sure he wants to be there, it makes even less sense to trade anything of value for a 30-year-old, injury prone center who can opt out on July 1.
David Lee 's $15.5 million contract is expiring, but expiring contracts aren't what they used to be -- especially when so many teams will have cap room this summer.
Nonetheless, the Celtics have options, and Ainge has never been shy about discussing anything and everything at any time of year.

New Orleans Pelicans
Things are a mess in New Orleans. After winning 45 games and making the playoffs last season, the Pelicans have been languishing near the basement all season. They're 19-32, though admittedly still only 6 1-2 games out of the eighth spot in the West -- and the honor of getting swept again by Golden State. 
New Orleans has gotten inquiries on Ryan Anderson , though thus far has indicated little appetite for trading him. The Pelicans have, on the other hand, exhibited a willingness to consider deals for Eric Gordon and/or Tyreke Evans . (Though forget about Evans; he's reportedly having right knee surgery and could miss the rest of the season.)
Here's their multi-layered dilemma: Even in the unlikely event they could pull off a move that could bring back an impact player to team with Anthony Davis , it would still be a steep climb into the playoffs. Beyond that, the Pelicans' best-case scenario as they sit here today is cap room for a mid-level free agent this summer -- and that won't be enough to move the needle. On top of it all, there's leadership uncertainty, as Saints executive Mickey Loomis has been given more authority over basketball decisions with the Pelicans. 
So on one hand, there's motivation here to create more flexibility for the summer; despite how far the Pelicans have fallen this season, playing with Davis remains an attractive sell for free agents. On the other hand, are those who are calling the shots now -- Loomis and Dell Demps -- going to be calling them in June and July? There's a lot of uncertainty, and whether it will inspire activity or gridlock is an open question.

Phoenix Suns
Now we're getting deep into the "tales of woe" section of the trade deadline primer. The Suns have fired assistants, fired head coach Jeff Hornacek and still haven't found a trade partner for the disgruntled Markieff Morris . It's time to cut bait with Morris, even if it means losing the trade in the short term. 
Beyond ridding their locker room of Morris and the (unlikely) event they can find a taker for Tyson Chandler , the Suns may be inclined to ride it out until they find a permanent coach during the summer (permanent being a word I use loosely in today's coaching environment). Despite their disappointing season, the Suns' outlook isn't as bad as you might think. They're flush with draft picks -- including their own 2016 lottery pick -- and don't owe any picks going forward. (One of those future picks could be used to dump Morris.) Phoenix came close on LaMarcus Aldridge last summer and is positioned to be a free-agent factor again in July. But after that unexpected success under Hornacek in 2013-14, it's time to start acting like the rebuilding team they are. Any moves Phoenix is likely to entertain at the deadline should not be win-now moves; it's time to shore up the future.

Sacramento Kings
Where do we begin? An overbearing owner (Vivek Ranadive), lame-duck coach (George Karl) and neophyte executive (Vlade Divac) face some monumental decisions. Now that the Kings have decided to keep Karl -- for now -- they turn their attention to the roster. Like the relationships within the team, the personnel could also use some work.
The Kings want value back for Rudy Gay (two years left on his contract at $27.5 million), but all trades must be made in the context of the long-term plan -- and with so much uncertainty in Sacramento, it's difficult to discern exactly what that is. 

Los Angeles Clippers
Just forget about trading Blake Griffin -- at least this month. But depending on how their season turns out, the internal debate about whether moving Griffin or keeping him is better for the long-term health of the franchise will be paramount in the team's offseason discussions.
As one of the few teams with cap room this summer, the Clippers have incentive to explore deals for 35-year-old Jamal Crawford , whose expiring contract and scoring ability could be appealing to a contender looking to boost its bench potency. And since the Clippers, with their books as currently arranged, won't be a factor in free agency (unless it's via trade), they have the ability to consider taking back a player with money going out a few years.
Though he's contributed of late (a trade deadline showcase?), Lance Stephenson is a prime candidate to be moved if the Clippers can get some future assets in return. (LA has its 2016 first-round pick, but the 2017 first-rounder is earmarked for Toronto.) Also, if the Clippers waived Stephenson before his $9.4 million contract became guaranteed in July, they wouldn't have room to replace him with a free agent. Better to see what they can get now.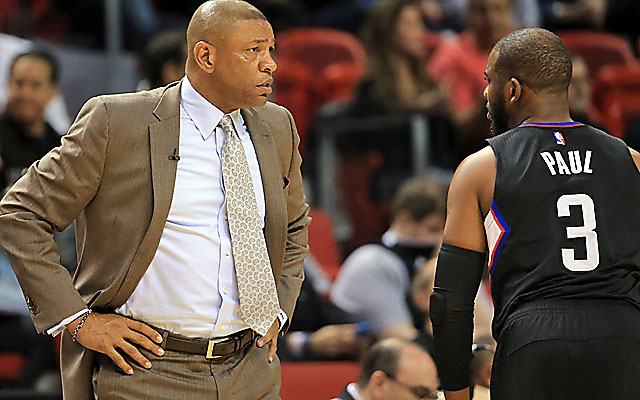 Show Comments
Hide Comments
Our Latest Stories
This sounds crazy, but it's totally plausible

This thing isn't getting any prettier for the two sides and what's coming out

Snakebitten Philadelphia sees another first-round pick with injury
The Sixers just started to get some good news before the Ben Simmons injury was announced

Bosh: 'I didn't get a call or a text or anything like that'

A budding star in Jokic, depth, trade chips -- Denver could be this year's Blazers