Clippers point god Chris Paul wins 2013 NBA All-Star Game MVP
With 20 points and 15 assists, Los Angeles Clippers point guard Chris Paul wins the 2013 NBA All-Star Game MVP.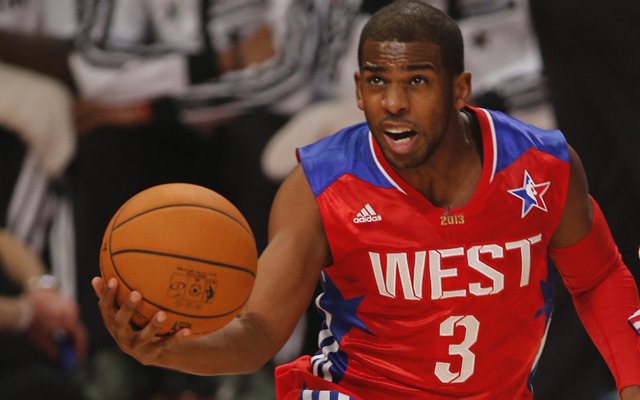 Twenty points and 15 assists from Chris Paul earned him the game MVP.
(Getty Images)
HOUSTON -- Los Angeles Clippers point god Chris Paul has recorded at least 20 points and 15 assists 29 times in his career. He did it 28 times as a member of the New Orleans Hornets and has managed to do it once with the Clippers. 
In the 2013 NBA All-Star Game, CP3 recorded exactly 20 points and 15 assists in helping the Western Conference win 143-138. There isn't a ton to break down in terms of actual strategy and production. These are essentially just numbers floating in the NBA universe right now. But considering we've played a lot of these All-Star Games (62, to be precise) and Chris Paul is just the third guy to ever collect 20 points and 15 assists in the All-Star Game (Isiah Thomas had 21 and 15 in 1984, Magic Johnson 21 and 15 in 1985), it still seems like a pretty unique accomplishment.
"Pretty special," Chris Paul answered after being asked how it felt to win the MVP of the game. "It's something I've never done. And it's something I definitely -- coming into the game, I wasn't trying to achieve or thinking that it might even be possible. I told KD early in the first quarter, I said, "Man, if they score anything, you run. I'll get you the ball. You score. I want to be the one to give it to you.'
In games like this, it's so up-tempo and fast-paced, a guy like me, that's a facilitator, I enjoy."
The most recent point guard to win the ASG MVP was John Stockton when he shared the honors with Karl Malone in 1993 in Salt Lake City (that had to be rigged, right?). The most recent point guard to take home the honor just by himself was Magic Johnson in 1992, when he was allowed to play after retiring because of having the HIV virus. 
"You just want to play fast," Paul explained. "I like to throw the lob. I like to see guys hit threes. When we're out on the court with all that firepower, why wouldn't you want to make passes? You've got KD filling one of the lanes; you've got Blake, Kobe on the wing. There's nothing like it."
In a game that's designed to celebrate the NBA and be a lot of fun for everybody involved and watching the game, Chris Paul managed the game the only way that he knows how. He brought the fun and kept the flow of the game exactly how he wanted it to be. He controlled the game, like he so often does for the Clippers. And the result was a pretty fun night with a lot of great plays and highlights. 
It was nothing new to his peers.
"He was unbelievable," LeBron James said. "He's one of the best players we have in this league, the number-one point guard we have in this league and it doesn't surprise me what he did on the floor."
The reason that CP3 has gone from point-guard status to point-god status amongst NBA fans is that he can do whatever he wants with the ball, attack however he needs to and he's so good at executing whatever plan that he has to subterfuge the defense. LeBron is right; Chris Paul is the No. 1 point guard in this league, and he proves it nightly. 
It was a fun way to get the reminder from him and his play on Sunday night.
Show Comments
Hide Comments
Will Iggy stay with Golden State? Does anyone have any idea what to do with Derrick Rose?

Hoiberg was asked about Isaiah Thomas possibly carrying the ball during Game 5

Celtics point guard does not need anyone to hype up his defense
The Bulls had it, they had it ... and ... it's gone

The Bulls found they were without hot water following their Game 5 loss

Wall finished with 20 points and 14 assists in win over the Hawks