Clippers-Thunder Game 2 Preview: How does the MVP respond?
Kevin Durant won the MVP, but the Thunder are down 0-1 vs. the Clippers. Can the Thunder respond to tie the series?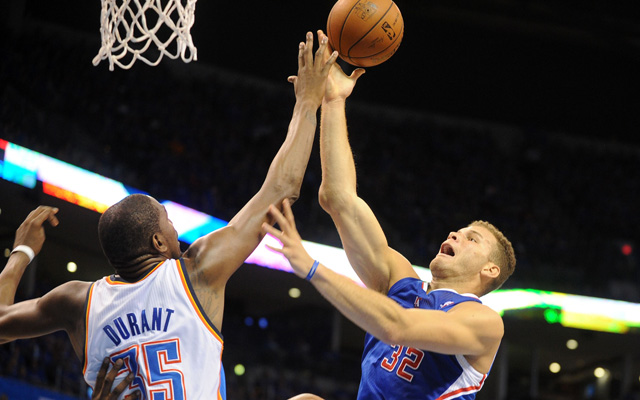 More postseason coverage: Playoff schedule, results | Latest news, notes
Previewing Game 2 of the Clippers-Thunder first-round series.
1. Where We Are: Surprisingly, going on the road, on short rest, after an emotional seven-game series... the Clippers housed the Thunder in the Thunderdome. Chris Paul went supernova (32 points on 10-of-14 shooting and 10 assists), the Thunder defense was completely lost, and the Clippers took a 1-0 lead. 
The Thunder had an emotional day Tuesday as Kevin Durant won MVP, thanking each and every member of the roster, even the rookies and guys who don't play. Will that propel them to higher focus and help them win, or leave them emotionally drained? 
2. The Big Number: 149.1. That was the Clippers' points per 100 possessions with Paul on the floor in Game 1. For reference, 105 is really good. 110 is terrific. 120 is insane, and 149.1 is like if a giant dragon perched upside down on the Thunder scoreboard and burned the entire court to cinders with fire breath. 
There are lots of adjustments for the Thunder to make. Not being annihilated from the face of the Earth by Chris Paul would be a great start. 
3. Key Adjustment: Oklahoma City needs to get more of the offense involved. Durant wasn't spectacular in Game 1 but he was pretty good, as was Russell Westbrook. But they need to get Serge Ibaka the ball in scoring situations more and need to go with the Westbrook-Reggie Jackson combo guard set earlier. Why focus on offense instead of defense where they got torched? Because a better offensive performance is going to help them get set and find Paul quicker in transition. 
They need to get scores to help their defense, which will help them run, which will help them score, which will help their defense. It's a circle of life, only with Derek Fisher for some reason.
4. The Big Story: Kevin Durant is finally not No.2 anymore. He won the MVP. He's No. 1. Is he ready to bounce back from a devastating loss and an emotional day to carry his team? This is Oklahoma City's fourth bad game since the playoffs began. The pressure is on Durant to live up to the billing now. His team is down 0-1 at home. How does he respond? 
5. The Facts: 9:30 p.m. ET. Hedo Turkoglu is out for Game 2 with a back injury. 
Cleveland is one of Rose's biggest suitors, and the Irving situation could lead to an even...

Five years later and Celtics fans continue to throw shade -- Allen later deleted the comme...

Irving has a desire to team up with Butler dating back to June
Apparently, Irving first asked to be traded in June in hopes of joining Jimmy Butler in Ch...

Despite Melo being a good trade piece for the Knicks on paper, he has his sights set on joining...

Kyrie is reportedly open to leaving Cleveland, and New York is among his top choices to be...