Clippers-Thunder Game 4: How Darren Collison saved the day
Backup point guard becomes the unlikely hero for LA as they even the series 2-2.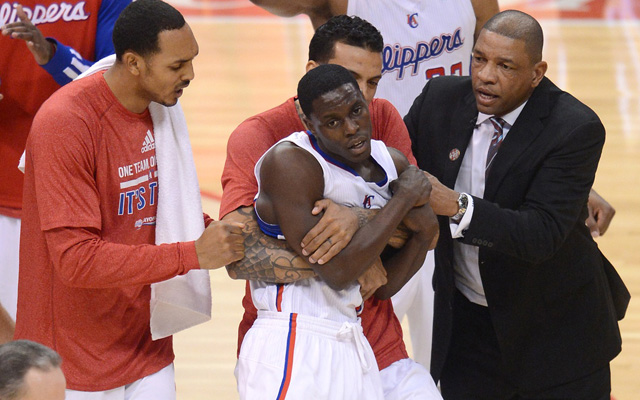 More Clips-Thunder: Clippers find themselves | 'Weird' coaching | Court Vision
In an NBA playoff run, you have to have "the others" as Shaquille O'Neal famously put it. It's not really the same as college, wherein you need "everyone to play as a team" and all those tropes. It's more defined. You have to have someone or someones in each series who can tip the scale with their performance based on matchup. And for 3 and 3/4 games, the Clippers honestly had not had a single one. 
Game 1 was Chris Paul willing the team to victory with one of the finer performances of his playoff career (which has a lot more phenomenal games than misses despite his detractor's obsession with his team's inability to advnce). Games 2 and 3 were defined by the Thunder's spectacular superiority in their top two players. And through three quarters, Game 3 was a complete Thunder shutdown. They manhandled the Clippers and had every answer. They were cruising. 
But then something weird happened. See, the best way for an Other to step up and win the day is when the defense is forced to overreact to the elite players. The Thunder keyed in on Chris Paul and Blake Griffin, the two players that had carried the Clippers and that left the door open for... Darren Collison. 
Collison scored 12 points in the 4th quarter as the Clippers put up 38 points in the final frame, after scoring 32 in the first and third quarter combined. Blake Griffin had 10, Chris Paul had eight, but it was Collison's 12 that was the difference. 
Watch what happens on this late-game pick and roll with Paul and Griffin. All five Thunder players (rightfully) key in on it, wanting to make the Clippers beat them with literally anyone else.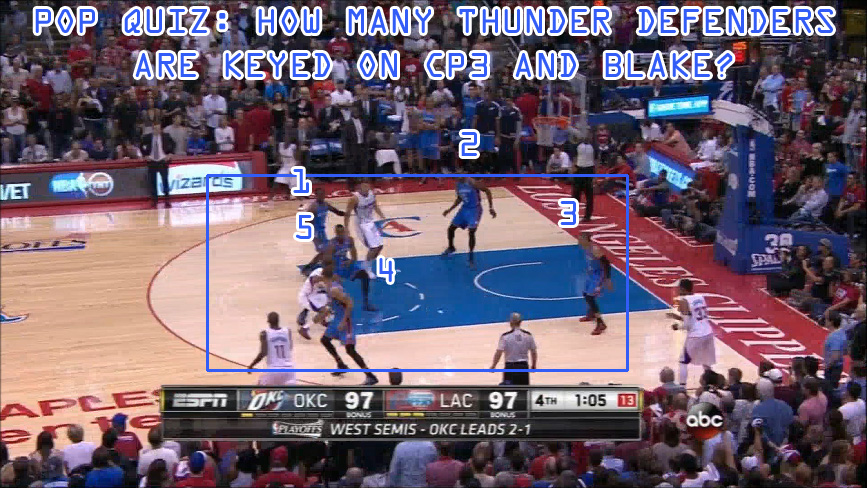 Paul gets stymied and makes the correct pass to the weak side for an open Collison. But Collison, who had taken only one three in the game, a miss, pump fakes and Kevin Durant flies by. He elects to drive, but the Thunder have rotated and should have this covered.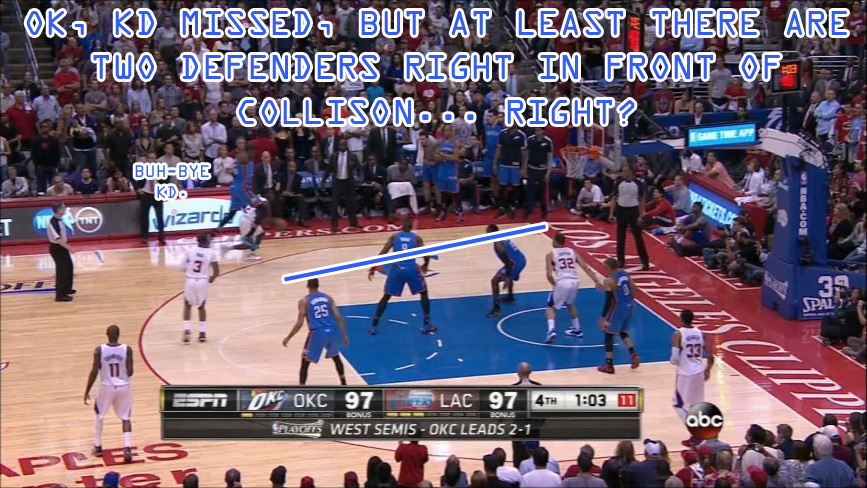 Reggie Jackson has the baseline, Ibaka has the point of attack. Collison actually hesitates when he comes off the pump fake and considers th mid-range pull-up, but elects to drive. This is suicide. He's going into two defenders, including a DPOY candidate and expert shot blocker, and he's not exactly the biggest dude on the floor. 
But then a funny thing happens. Reggie Jackson elects to move back to try and box out Blake Griffin which, a. good luck with that and b. that surrenders the baseline. Ibaka's still there, but if a really fast guard is moving towards him, he can get the edge. 
Collison is that guard.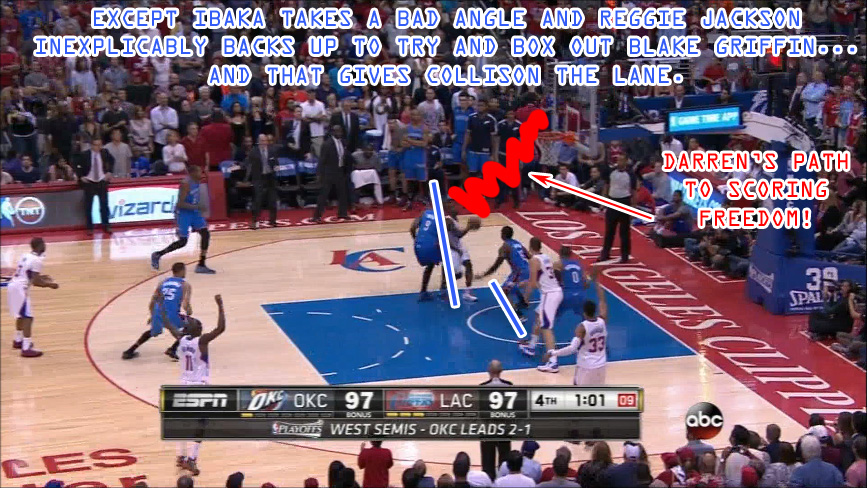 Collison gets the edge and scores past Ibaka, and the Clippers take the lead, eventually pushing it to four behind Collison's run-out (cherry pick) score. 
That's how an Other becomes a hero. He takes advantage of the opportunities given him. After the game, Chris Paul spoke about how emotional it was for him to see Collison thrive this way. Collison was Paul's rookie backup in 2010, and he joined the Clippers in part to be with Paul again. 
"You take the good with the bad," Paul said after the game. "We push each other so hard every day." 
Collison went to the Pacers after being traded from the then-Hornets. He played well, but the Pacers electe to trade him to Dallas for Ian Mahinmi to add size. He melted in Dallas after a promising start, his career looked to be spiralling. In truth, he had defended Steph Curry in round one, which no one noticed. But he's massively outmatched vs. Westbrook. The thing is, most humans are outmatched against Westbrook's size, strength, and athleticism. 
But if you're going to win a series, if you're going to win a title, you have to have those players that step up, and often times those are undersized guards. The Heat have had Mario Chalmers and Norris Cole. The Lakers had Jordan Farmar and Derek Fisher. The Mavericks had J.J. Barea. 
The Clippers had Darren Collison, the point guard who wouldn't quit, and in Game 4, he saved them from the edge of disaster. 
Don't even think about it -- LeBron's reportedly not going anywhere

The point guard's unhappiness reportedly helped lead to his eventual trade request

Even Floyd Mayweather weighs in on the war of words between the two stars
The three-team deal would have also shipped Kevin Love to Denver

Ball wasn't happy about a foul call, swore at a referee and took his team off the floor

Jared Sullinger wants back in the NBA; he knows his weight will play an important part