Clippers-Warriors Game 6 Preview: Get Steph Curry in the kitchen
Previewing Game 6 of the series between the Golden State Warriors and the Los Angeles Clippers. Can the Warriors survive another game?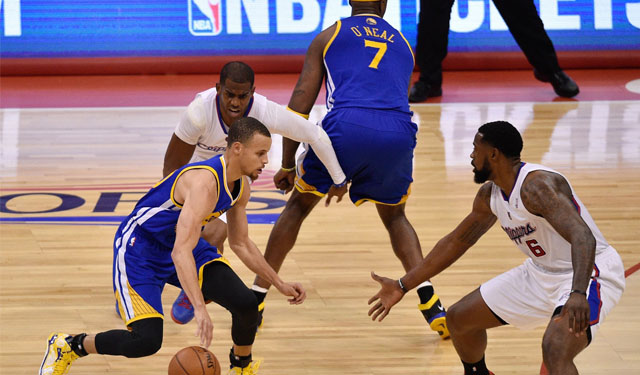 More postseason coverage: Playoff schedule, results | Latest news, notes
Previewing Game 6 of the Clippers-Warriors first-round series.
1. Where We Are: In what has been a hectic series without any real answers about what's going on from game to game, we find ourselves with the Los Angeles Clippers leading the Golden State Warriors 3-2 heading into Game 6. Game 1 was an officiating blunder that left us with a Warriors' win and no real answers. Game 2 was a 40-point blowout by the Clippers. Game 3 saw the Clippers outlast a late surge by Stephen Curry in order to secure a 2-1 lead. Then the Donald Sterling stuff broke prior to Game 4 and the Warriors won that contest pretty easily.
Game 5 was coming a few hours after Adam Silver lifted the Sterling cloud from over the players' heads, and we saw the Clippers struggle to put the Warriors away, but ultimately come out victorious. DeAndre Jordan had a monster game and the many weapons of the Clippers were able to capitalize on mistakes the Warriors made and survive the outside onslaught from Curry and Klay Thompson. We've had so many ups and downs in this series and have no clue what to expect for Game 6 in Oakland.
2. The Big Number: 8 and 7. Curry had eight turnovers and seven 3-pointers attempted in Game 5, which seems like an awful ratio for him. He's been sloppier with the ball this season than he was last season, but he simply can't have more turnovers in a game than he's attempting 3-pointers. His outside shooting and direction of the team is instrumental in how the Warriors gain momentum throughout a game. If he can keep the 3-ball flying and stop giving the ball away, it'll put the Clippers' defense on its heels.
3. Key Adjustment: Find more wing pick-and-rolls to run with Curry and his teammates. The Warriors will go as far as Curry takes them, but he can only take them as far as his teammates and coaches help him go. It's a symbiotic relationship. When Curry is running pick-and-rolls with the big men, the Clippers' big defenders are able to take away quick shots by showing hard and using their length to cover quick shots. With wings who might not be so accustomed to dealing with that, Curry can take advantage early and put the pressure on the Clippers to respond. It's a slight adjustment but one that could pay dividends. 
4. The Big Story: How quickly does the emotional burden of this week's events go away? The Clippers came out after the Sterling news broke and looked like shells of themselves. After the lifetime ban against Sterling came down, the players were emotional but managed to ride a good home environment to a double-digit victory in Game 5. But none of this is over for this team. They're still being hounded about it by the media and people they know. They're still having to deal with and process the emotions that bubbled to the surface when all of this happened less than a week ago. Do these things help you band together on the road this time or will we see a disjointed effort in a hostile environment?
5. The Facts: 10:30 p.m. ET. Andrew Bogut is out for the Warriors with a fractured rib. Hedo Turkoglu is out for the Clippers with a bruised lower back.
Show Comments
Hide Comments
'Road Trippin' with RJ and Channing' is the best podcast in basketball

James has said he doesn't feel he has anything left to prove

How they match up with what each team does well, and poorly, headed into the big battle for...
LaVar Ball will be happy with this futuristic mix of his son in Lakers gear

LeBron had some high praise for his coach

The King had some high praise for Warriors' "new" addition