Coach K: No restrictions on Bulls' Derrick Rose with Team USA
Chicago Bulls point guard Derrick Rose will compete like everyone else at training camp in Las Vegas.
• 1 min read
Offseason: Free Agency | Latest from Ken Berger | Rumors
Chicago Bulls point guard Derrick Rose hasn't played a competitive game since November, when he tore his right meniscus. He's been rehabbing and recovering, and he practiced with Chicago's summer league team, but this week with Team USA will be his first real test. Head coach Mike Krzyzewski told Yahoo Sports' Marc Spears that Rose will not have any restrictions on him in training camp in Las Vegas:
Yahoo: What are you expecting from Derrick Rose in his return from knee injury?

Krzyzewski: "He was our starting guard in 2010. I met with him a little bit yesterday. I know he's excited about being here. Physically, he's good. It's just a matter of how quickly you regain the instincts to compete and play at this level."

Yahoo: Does Rose have any restrictions?

Krzyzewski: "No. No. None at all. Again, he hasn't played against this competition [in a while]. We have to watch that. But no. He says he's ready to go. I haven't seen him play. These next few days I will see the new guys, see Derrick. We put in part of our foundation for this system, but we have to give them the opportunity to play. The Select Team gives us an opportunity to compete and play more than just practice against each other."

Yahoo: So Rose is here truly competing for a World Cup spot?

Krzyzewski: "He's here to be here. We'll see how everything goes. I'm excited about having him. He's very excited about being here."
Since Kevin Love won't be there to answer questions about trade rumors, Rose's play will be the biggest storyline. Team USA has All-Star point guards Stephen Curry, John Wall, Damian Lillard and Kyrie Irving in camp, too, and there's no need for all of them to make the trip to Spain for the World Cup. If Rose is in his MVP form, then that would be a great tune-up for the regular season. If he's rusty or a step slow -- which would be totally understandable -- then he might have to miss out.
Derrick Rose & Tom Thibodeau meet up before the @usabasketball Men's National Team training camp pic.twitter.com/rRpWNgG0pf

— NBA TV (@NBATV) July 28, 2014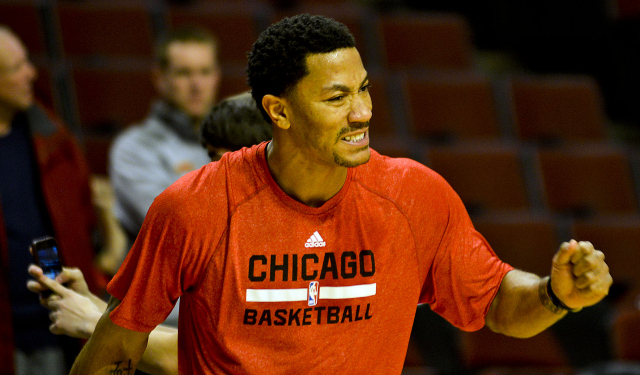 Rose played in 64 games for the Knicks before a season-ending knee injury

Durant chose an odd way to shout out his former OKC teammate

Teams are reportedly trying to bring in the veteran forward in an effort to weaken the War...
LeBron has reportedly already ruled out any chance of joining the Clippers

The Thunder plan to offer the recently named MVP a massive five-year extension worth around...

Paul opted out of the final year of his contract last week