Court Vision, where LeBron couldn't be stopped and Miami made it 3-1
LeBron James and the Miami Heat took a commanding 3-1 series lead on Monday.
• 2 min read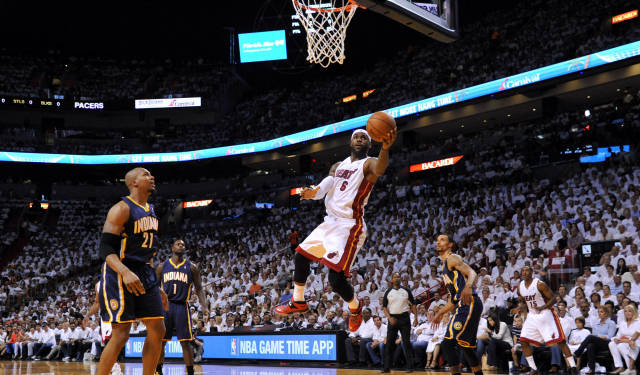 Miami Heat 102, Indiana Pacers 90 (Heat lead 3-1) | Indy's done | Bosh's big night
Here's what we learned on Monday, as LeBron James and the Heat dealt the Pacers what will probably be their death blow.

• We learned that LeBron James is just too much for the Indiana Pacers. James had 32 points, 10 rebounds, five assists, two steals and shot 13-for-21 from the field. He did this against a team that played the best defense in the league this season. He did it against Paul George, an individual defender as excellent as there is at his position. James was brilliant all night and particularly so in the third quarter, where he scored 13 points and his team outscored Indiana 31-20 to break the game open. 
• This absurd three-pointer was part of it:
• As was this vicious dunk:
• The 12-point final margin obscures how thoroughly the Heat dominated. They led wire to wire, and it felt like a miracle that the Pacers trailed by just five points at halftime. Indiana had 13 turnovers to Miami's five, and that discrepancy also seemed like it should have been bigger. The Pacers were consistently sloppy, while the Heat were able to get good looks and get to the line.
• Chris Bosh was the early story, scoring the first eight points of the game and making his first four jumpers, including two three-pointers. He surpassed his series-high point total in the first frame, and wound up with 25 points on 7-for-12 shooting. This was bound to happen at some point, wasn't it? 
• George did all he could on defense, and finished with 23 points, seven rebounds, three assists and five turnovers, shooting 8-for-16 from the field. You can't fault him or expect him, at 24 years old, to give his team much more. He just needs help, and David West (20 points, 12 rebounds) was the only one to consistently provide it. George is great offensively, but not yet great enough to carry an offense. He makes terrific passes sometimes, but can still be prone to turnovers and poor decision-making. In high-pressure playoff situations, every part of your game gets exposed. 
• Roy Hibbert played 22 minutes and went -23, failing to score a single point. It was his fourth scoreless game of the playoffs, which is kind of incredible for a player as good as Hibbert. It's simple to say Indiana goes as he does, but, especially against Miami, it's true. 
• Lance Stephenson scored his first field goal more than halfway through the fourth quarter. Norris Cole has gotten a lot of credit for slowing Stephenson down, and he deserves it. The entire Miami defense has made him a focus, though, and help was there just about every time he tried to make a move. Stephenson could hardly have started the series better, but figuring out how to contain him might be the biggest reason the Heat are up 3-1. 
• The Pacers bench wasn't great, but they stayed with Miami's reserves, with Luis Scola providing much-needed first-half points for the second straight game. This one was on Indiana's starters, particularly Hibbert and Stephenson.
• Indiana cut into the lead late by going small, with David West at center. Perhaps there will be more of that next time.
• Let's finish this with some more LeBron insanity:
• Game 5 is Wednesday at 8:30 p.m. ET on ESPN. 
Show Comments
Hide Comments
The veteran guard has spent the past six seasons with the Clippers

The veteran guard had a contract guarantee that would have triggered if he wasn't released...

Griffin has been with the Clippers for his whole career. Is this the end of an era in LA?
The restricted free agent will likely still see significant offers this summer

Texas' Mohamed Bamba and Arizona's DeAndre Ayton also in the top 3 in next year's NBA Draf...

The popular meme will be forever immortalized as a piece of body art