Cuttino Mobley looking to make an NBA comeback
Cuttino Mobley hasn't played in an NBA game since Nov. 19, 2008 after a heart condition was discovered during a physical. But he's trying to make a comeback.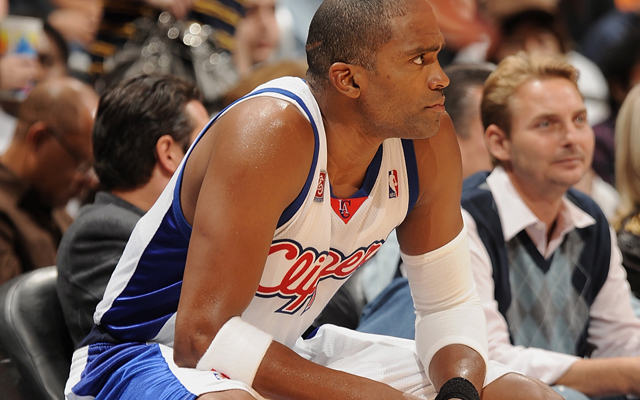 Cuttino Mobley's career was cut short in 2008 when, after being traded to the Knicks, a dangerous heart condition was discovered during his physical. 
But Mobley, 37, is looking to make a comeback. 
On May 31, ASM Sports will be holding a pro-day for their draft prospects as well as their veteran free agents. Mobley will be one of the free agents participating in the veteran sessions, according to the agency.

The free agent workouts will include drills and five-on-five. Other notable free agents such as Josh Howard, Christian Eyenga and Rasual Butler will also be participating in the pro-day, which will be held at Impact Basketball in Las Vegas.
Mobley played for 11 NBA seasons with the Rockets, Magic, Kings and Clippers. He was traded to the Knicks but never played a game for them. 
He was drafted 41st overall in 1998 out of Rhode Island. Other players from that draft still in the league: Dirk Nowitzki, Paul Pierce, Vince Carter, Antawn Jamison, Mike James, Rashard Lewis, Nazr Mohammed and Al Harrington. 
During his career, Mobley averaged 16 points, 3.9 rebounds, 2.7 assists and 1.2 steals. 
There aren't any details as to why Mobley's medical issue isn't a problem anymore. But if he can make it back, good for him. And, at 37 years old, sounds to me like a reunion with the Knicks might be right up Mobley's alley. 
Show Comments
Hide Comments
Celtics reverse course in Chicago; Pacers head home

Our NBA experts predict the first round of the postseason

Can the Clippers close the series without Blake Griffin?
The playoffs are starting to heat up

The Cavs are the first team to move on to the next round

Our experts predict every series in the 2017 NBA postseason