D-Rose on Paul George: 'That could've been me'
No member of Team USA is in a position to feel more empathy for Paul George than the often-injured Derrick Rose. "That could've been me," the Bulls' point guard said Tuesday.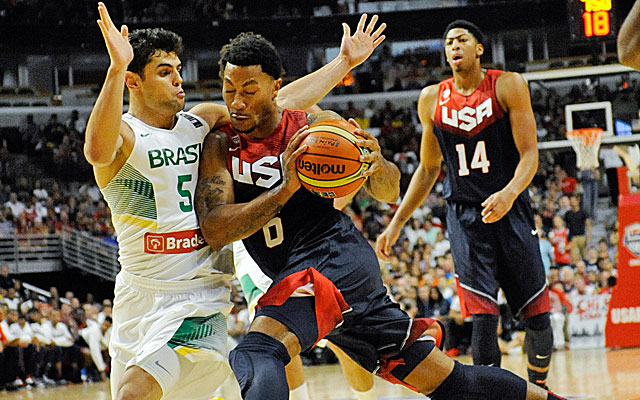 Offseason: Free Agency | More from Ken Berger | Rumors
EAST RUTHERFORD, N.J. -- Though it's been nearly three weeks since Paul George suffered a hideous leg injury in a Team USA scrimmage, the incident is never far from his teammates' thoughts.
And no Team USA member is in a position to feel more empathy than Derrick Rose, who has played only 10 games the past two seasons due to knee injuries.
"That's my first time ever witnessing something like that," Rose said Tuesday. "When it first happened, it kind of took me by surprise, because you see how talented he is and how young he is. You don't want that to happen to anyone."
Though it was the first major injury suffered by an NBA player since the Dream Team debuted in international play in 1992, the risk is always there.
"Thank God he signed his contract and got that out the way first before the injury," Rose said. "Because when it happened, you could put yourself in his shoes and say, 'Damn, that could've been me.' All you can do is pray for him."
Now, Rose might get criticized for citing financial security as a silver lining for George, who likely will miss the entire 2014-15 season -- the first year of a five-year, $92 million extension he signed in 2013. But injury risk and contract length play a role in every decision NBA players make. Look no further than Kevin Love and LaMarcus Aldridge, both entering the final year of their contracts -- and both backing away from their Team USA obligations this summer.
Basketball is a business, even when the job involves representing your country -- and especially when those duties offer no financial reward but substantial risk for NBA players and owners.
Rose has three years and $60 million left on his contract as he uses the Team USA experience to help him prepare for another comeback. He got his second day off in a row Tuesday as the Americans continued preparations for their second exhibition game Wednesday night against the Dominican Republic at Madison Square Garden. Rose said he hopes to be in the starting lineup again, but doesn't feel any pressure to do more with George and Kevin Durant out of the picture.
"We lost some great players, but we still have guys that are really working on their game," he said. "We're not worried about that. ... For myself, I've just got to push the ball and get guys open. I don't have to worry about shooting the ball. I could go the whole game without shooting the ball on this team."
Show Comments
Hide Comments
Our Latest Stories
The two big men are out one game for exchanging punches Tuesday night in Toronto

The Warriors forward is scheduled to be re-evaluated next week

Another blow for the talented Sixers big man
Which three would you choose?

Detroit has been erratic as ever while chasing a playoff berth

Howard Megdal's big board ranks the top prospects for this June's draft