Damian Lillard thinks All-NBA, MVP are in his future
Portland's Damian Lillard thinks All-NBA, All-Star and MVP accolades are in his future.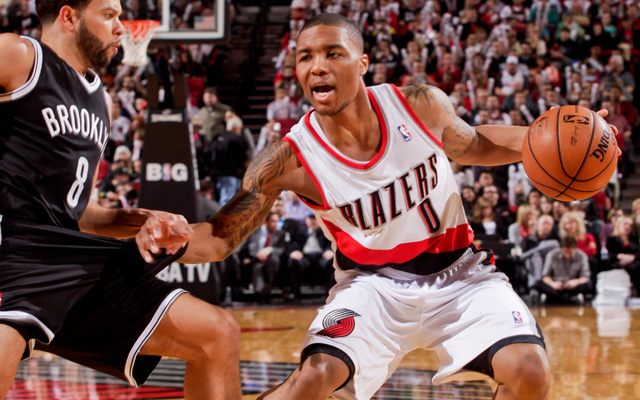 Damian Lillard is not lacking for confidence. The presumptive Rookie of the Year reflected on breaking an NBA rookie record for 3s on Monday, and said his aims are much higher. 
"I think I can be a first team All-NBA, I think I can be an All-Star, I think I can be an MVP," Lillard told CSNNW.com. "That's just my opinion. I don't know when, but how I plan to work and how much better I want to be, I feel like anything is possible."
via Lillard has goal of being a MVP | CSN Northwest.
Lillard made it clear he wasn't saying he was those things right now. And that's pretty standard confidence stuff. But from Lillard, you can tell it's not just lip service. 
Can the kid get there? 
It's a pretty steep climb. After Kyrie Irving's rookie season in 2011, you knew that (if healthy), he was going to be a top player in this league. He runs the pick and roll exceptionally well for a 20-year-old, he can shoot behind the screen, and he showed better passing ability than his assists showed. 
Lillard dominated this rookie class and showed a propensity to take and make tough shots, and his passing is probably underrated. But the athleticism most of the previous MVP winners had hasn't been seen from him. That doesn't mean he won't get there. It just means there's a pretty sharp curve for him. Consider that Chris Paul, obviously Lillard's top-most of the top-most ceiling, has never won MVP. 
Such is the burden of the point guard. 
For now, we can look back at a stellar rookie year and realize that maybe the bigger thing than any individual award Lillard might have in his future is he's set to earn the most important thing of all: wins. 
Show Comments
Hide Comments
It's never too early to start thinking about next year's NBA Draft

Boston took Tatum with the No. 3 pick, which they had after their trade with the 76ers

Someone in New York clearly doesn't want the Knicks to trade their prized unicorn
See who nailed it and who whiffed with our grades for every pick of the 2017 NBA Draft

Full results of all 60 picks of the 2017 NBA Draft

Highlights and lowlights, including several ways the Bulls found to lose